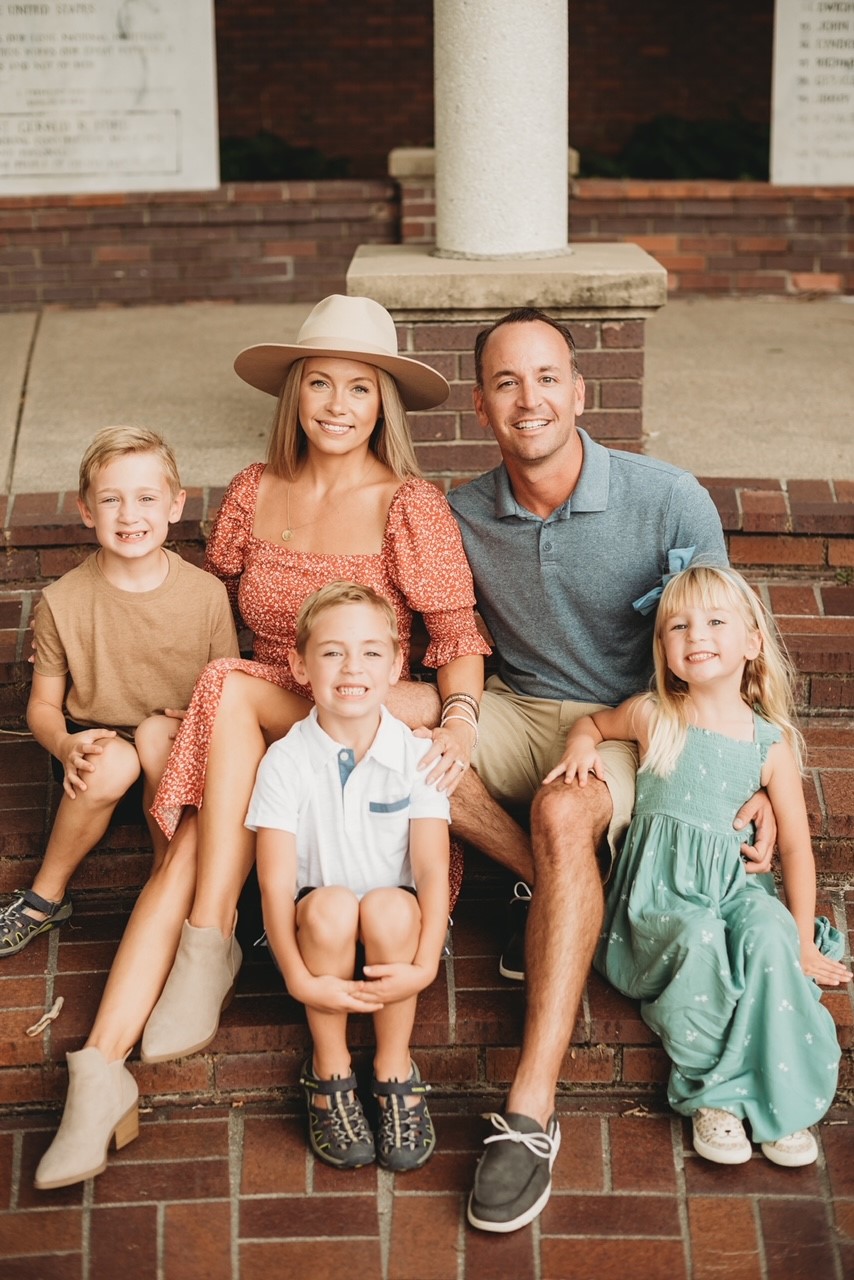 Before he leaves his house in the morning, the new president of the Lincoln Community Foundation drinks an entire pot of coffee – then pours a couple more cups when he arrives at work.
"That may be where my energy comes from," laughed Alec, who officially became the new president and chief executive officer on the cusp of 2022. "Or perhaps it's because I go to bed pretty early. Or because one of my major Gallup strengths is 'achiever'."
Something must be working.
Four months into the job, and Alec Gorynski (pronounced GOR-EN-SKI) is feeling inspired and optimistic. "I've said that my whole job right now is meeting people, listening, and learning – and that's what I've been doing. And wow, what a welcoming and warm reception to this community," said Alec. "In many ways this part of the job will never stop. Building relationships will always be fundamental to my role. But the conversations will evolve over time." Meanwhile, Alec and his wife, Laura, and their three children – Jamie (8), Ben (6), and Claire (4) – officially moved from Omaha to Lincoln this spring.
"There was a day when my wife dropped off kids at school, painted our daughter's bedroom, and then wrote a grant," Alec mused. "I was in awe of her."
"So, yes, it has been chaotic. But it honestly feels like we're coming home. Lincoln is the city where I was born and raised. It's kind of fun to drive around and see things that are familiar to me, see things from when I was a kid," Alec said. "We grew up in Eastridge neighborhood and spent a lot of time at the St. Teresa parish, volunteering, doing service." In fact, Alec believes many of the fundamental values that he brings to LCF originated in those early years. "It is how I developed my sense of the world, how I developed the values that continue to guide me professionally and personally," he reflected. "A belief in equity and equality, opportunity and hope, trust, transparency, and accountability. These are the values that guide how I live, how Laura and I raise our children."
Earnest and conscientious, Alec possesses a seemingly endless supply of energy and a bedrock sense of the values that guide his life. "I have always been focused on civic and civil service," he said. "In my undergraduate years, I wanted to be a police officer. In fact, I have a degree in criminal justice."
Most recently he worked in Omaha serving as vice president of community development and corporate philanthropy for First National Bank of Omaha.
Why change?
"Somewhere along the line, your heart steps in. This job just felt right." Alec believes Lincoln is quite unique in how it has approached the concept of public good. "Everyone here – the business community, civic institutions, the universities, philanthropic organizations – they all come together collaboratively in what's best for the community. They ask questions in a unified voice: Where are our needs? What does the data tell us? How does that inspire change?"
He also believes Lincoln Community Foundation is unique in the way it maximizes the power of every donor. "The Foundation here serves and meets a donor where they are, no matter how much they have to give. That doesn't happen everywhere," Alec emphasized. What's important now, he said, is to step up as a steward of the community, listening and learning.
So, what has he learned so far? "I am seeing three dominant themes emerge," Alec said.
ONE
"What I hear, more than ever, is the strong and favorable reputation of the Lincoln Community Foundation. There is a fondness for the organization, an appreciation for who they are. Everyone I meet – board members, donors, strong and capable staff – is doing everything possible to set me up for success. They are in my corner. I believe everyone wants the Foundation to win, because then the entire community wins." 
TWO
"Second, and just as important as the first, folks love the people of the Lincoln Community Foundation. There is such respect and appreciation for everything they do and the stewardship they provide."
THREE
"There is an incredibly solid base of community giving in Lincoln, and our work is to maintain that momentum while also looking ahead to the next generation. I believe we need to consider how we grow the practice of philanthropy in our community and think more broadly." Alec is up for the challenge, and his professional and educational experience to date have prepared him for this role. With an undergraduate degree from Peru State College and a master's degree in public administration from the University of Nebraska at Omaha, Alec has 15 years of experience in community development, working across the private, nonprofit, and government sectors.
"I believe the Foundation is well positioned to navigate into the future. Our work ahead is to build a Foundation for long-term growth and impact," Alec said. "We will define and develop our playbook going forward. And we will work together to develop a strategic plan for the next five years, growing our ability to serve our donors and expanding our role as a community leader and convener."
First, Give to Lincoln Day lies ahead. So do more community conversations. And probably a lot more coffee.