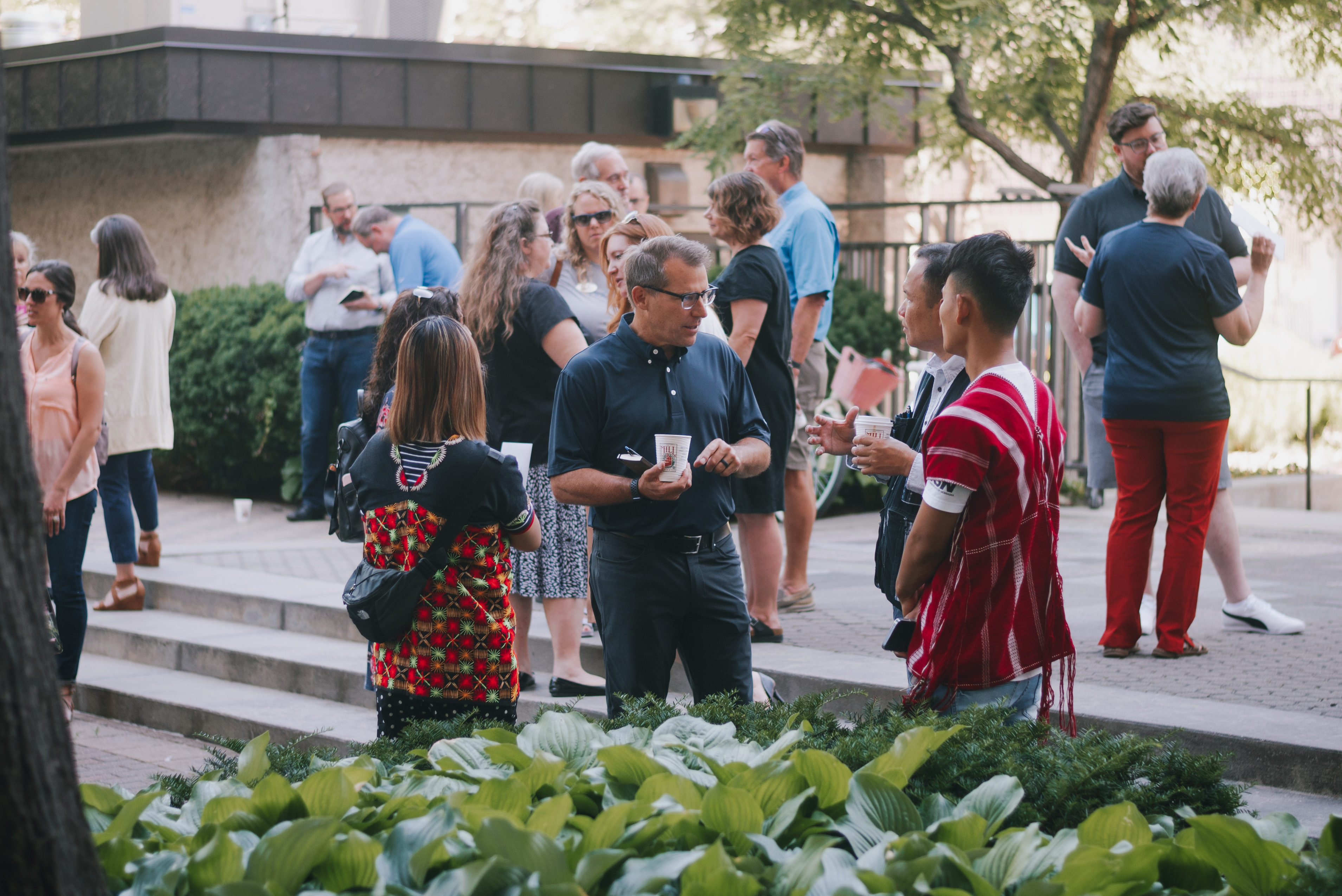 Thank you for taking the time to chat with us! Tell us a little bit about your family's philosophy behind giving back. 
Growing up, my parents and grandparents emphasized the importance of community and philanthropy. We lived just west of Denver, CO but made trips east to visit family in Lincoln. On these trips to Nebraska, I recall my grandmother's consistent example, taking us along sometimes when she would volunteer. When my brother Robert and I decided to attend the University of Nebraska for college, we recall visiting my grandmother in downtown Lincoln. She would take us to the Lincoln Children's Museum in the lower level of the Miller & Paine Building and would reach into her wallet and hand over a little cash to support them. We grew up learning that it was important to always be thinking about contributing our time, resources, and imagination to make our community better. 
WRK is the name of your business and family foundation. Can you share the background behind it? 
WRK is the first initial of the names of my siblings and I – William, Robert, and Katherine (Kit). Kit was our older sister and a great role model and friend. She was super talented, just an awesome gal and a proud University of Nebraska graduate. She worked in New York City; for Prudential, setting up insurance companies in Third World countries. When she was 28, she was traveling for work in Argentina when she tragically passed away from an asthma attack that led to respiratory arrest. The world stopped for us in that moment, also solidified that life is short and life is precious. We all have to make the most of the time while we are here. She definitely did that in her 28 years. 
WRK Real Estate LLC is our family-owned real estate development and investment firm. Robert and I founded the Company in 2003 and we are celebrating 20 years in business this year. Our business philosophy closely mirrors the community focus engrained in us growing up – we can do well by doing good. We are a mission-driven company that tries to focus on private-public projects, and we try to find ways to make things better by being intentional and thoughtful. There's always the opportunity with every project to help someone or something. Whether it's attracting dynamic companies to Lincoln through development of Hudl's HQ, converting lower-level commercial space for entrepreneurial start-ups or renovating a historic building, each project is an opportunity to have a positive impact. 
What was the impetus behind starting your family foundation, and what are some of the benefits you've seen from it? 
The WRK Family Foundation provides us an opportunity to directly give back to organizations working to better our community and to honor our sister's legacy. Kit volunteered at a NYC penitentiary to assist pregnant inmates, she was in Junior League, and was always willing to help with community-oriented projects. Her passions were children, reading, and childhood development so that's been a key focus for us as well with the WRK Family Foundation. 
Our goal with the WRK Foundation is to grow it and do more good. There are so many needs and opportunities in Lincoln. It's also been fun getting our kids involved where they are part of the process. The Woods Foundation was helpful in assisting us to create more structure for our grant processes. We feel so lucky to be a part of this awesome community, and we hope to leave it better than we found it. 
WRK Family Foundation is a Match Fund Sponsor once again for Give to Lincoln Day. What excites you about being a part of Lincoln's One Big Day of Giving? 
Give to Lincoln Day has gone beyond our wildest expectations! This day is something that really brings the community together. It's enlightening to hear about the different nonprofit organizations and the great things they are doing. I think that the fundamental value of generosity behind Give to Lincoln permeates through all of our city. A lot of other communities would love to have something like this – and I hope they do. 
It's not how much you give; it's being intentional in your giving. It truly does empower everyone in our community to improve our neighborhoods and support all of our residents. What a powerful moment for everybody to rally around something positive. Give to Lincoln Day is a fantastic catalyst for deliberate change, making Lincoln an even better place to live.