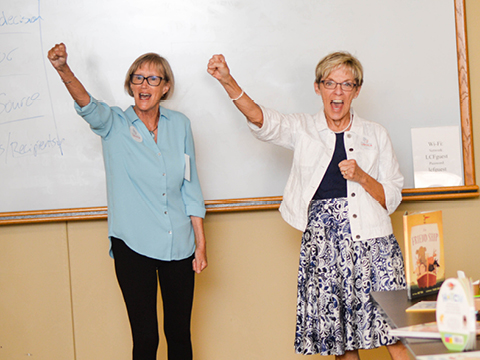 Part meeting, part celebration – the supporters of Read Aloud Lincoln were all smiles as they gathered in early September for an exciting announcement. After nearly 18 months of successful programming formed around the Prosper Lincoln focus on early childhood, the platform will continue to create a culture of reading aloud across the city. The work will now transition to a new parttime position within Lincoln City Libraries as Teagan Earhart steps into the role of Read Aloud Lincoln Advocate.
Read Aloud Lincoln includes a dedicated group of partners who want to spread the word to parents and caregivers that 15 minutes of reading aloud daily from birth to age 8 can profoundly impact success for all Lincoln's children, both in school and in life. Their primary goal is to have every child ready to read when entering kindergarten and continue to build their literacy skills during their early school years. This can happen when parents read aloud 15 minutes a day, every day. It is the single most important thing they can do to prepare their child for reading and learning.
The original Co-Directors of Read Aloud Lincoln, Nancy Larimer and Mary Reiman, are thrilled to know that the work they started will deepen and continue to develop with Earhart at the helm. Events surrounding the initiative have kept them both extremely busy. "We popped up everywhere," said Nancy.
Within the past two years, more than 35,800 books were placed into the hands of children all over the city. Mary said, "What we really saw was the generosity of Lincoln." Beyond distributing books, Read Aloud Lincoln focused on connecting people and building relationships within the community.
The first two years of Read Aloud programming were made possible through a grant received from the Institute of Museums and Library Services and the Lincoln Community Foundation in support of the Prosper Lincoln community agenda emphasizing access to quality early childhood development. Now with the platform transitioning to the Lincoln City Libraries, the goals of the program have not changed, and its early champions are happy to see the initiative thrive in a new home. "We are so very fortunate to live in a city which highly supports early childhood literacy," said Mary.