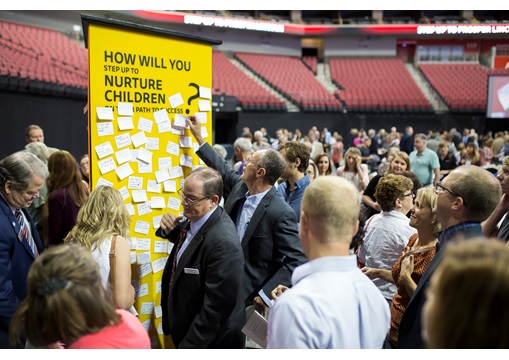 The 2017 Prosper Lincoln Summit, held Wednesday, August 23 at Pinnacle Bank Arena, attracted nearly 1,000 individuals wishing to learn more about the community agenda designed to address the issues of early childhood, employment skills and innovation and entrepreneurship.
The Summit featured the release of the latest Lincoln Vital Signs report as well as speakers who have engaged in activities that further the Prosper Lincoln Strategic Plan. Making connections was a common thread as speakers talked about connecting students to innovation, helping people find careers through case managers and providing scholarships so babies and toddlers from low income families can receive high quality early childhood education.
Those that were in attendance were encouraged to write on a Post-It note how they would "step up" to the Prosper Lincoln community agenda and to place that note on a plexiglass tower as they left the Summit. The tower can be found at Wells Fargo Center in downtown Lincoln through October 2017 and will make its way around the community throughout the next year.
Learn more about Prosper Lincoln by visiting www.prosperlincoln.org.