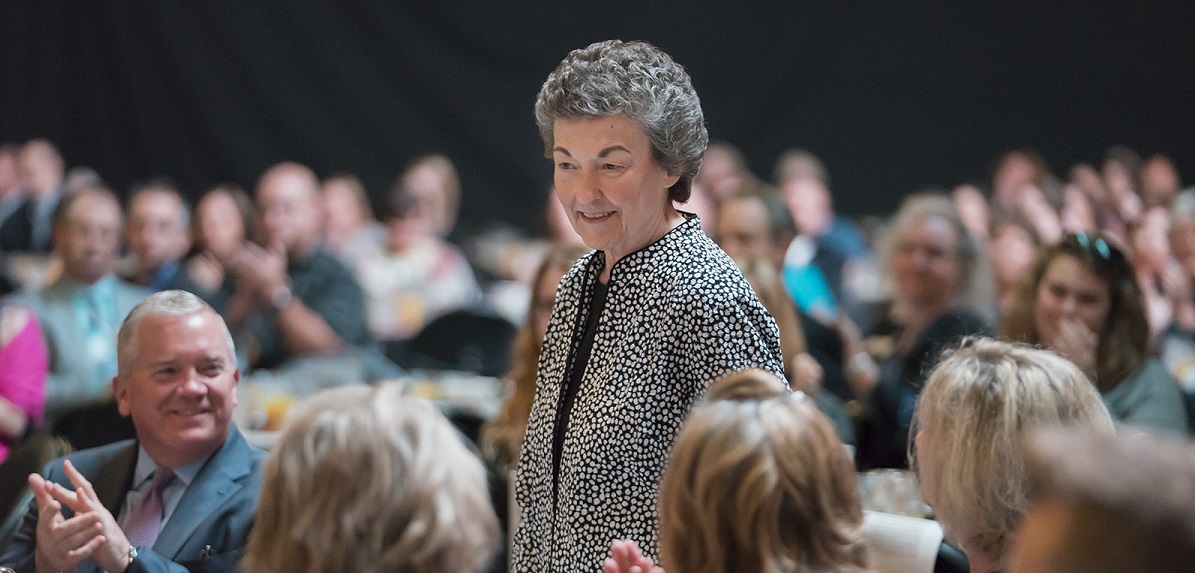 Mae Whitmer has a passion for children. In the 80s, Mae worked at SRI (Gallup) Child Development Center with babies and toddlers and realized the critical importance of early childhood development. When she learned through Prosper Lincoln that 750 young children in need are on a wait list for high quality early childhood education, she was moved to make a difference.
"Mae has a special place in her heart for babies and toddlers," said Paula Metcalf, VP for Gift Planning at Lincoln Community Foundation. "It was such a pleasure to watch her face light up as she discovered she could fulfill her lifelong dream by making a permanent impact through her gifts."
Mae began by establishing the Bill and Mae Whitmer Early Childhood Education Scholarship at the University of Nebraska Foundation. Because of Mae's generosity, six students already received scholarship awards this year to help with their tuition costs to pursue a career focusing specifically on infant and toddler education.
Mae then became a Benefactor at the Foundation when she established an endowment designated for Dimensions Education Programs. Their new early childhood center is located at 70th and A and will serve 120 more Lincoln children. Made possible by the sale of some land, this forward-thinking gift will reserve 45% of enrollment for infants and toddlers from low-income families at Dimensions. These families will receive scholarship assistance from the endowment Mae set up at the Lincoln Community Foundation. Because this gift is endowed, it creates a permanent funding stream for these scholarships. This is a remarkable gift from a visionary person.
Mae's late husband, Bill, was the third generation owner of ABC Electric. In a beautiful tribute to Bill, Dimensions' new baby classroom will be named Advanced Baby Care (ABC).
"I'm thrilled that I was able to fulfill the three greatest needs identified by Prosper Lincoln's Early Childhood focus – teachers, space and infant and toddler scholarships," said Mae.
In 2014, leaders of Lincoln's largest public and private charitable organizations commissioned the first Lincoln Vital Signs report to provide a shared understanding of both the strengths and the challenges in our city. Since then, Lincoln Vital Signs reports have been used by funders to target resources, nonprofit agencies for program development, the faith community for services planning, the business community
to improve workforce development, neighborhood organizations for advocacy and involvement, performing arts as an inspiration for a new musical, and in many other ways.
Our community's response to Lincoln Vital Signs led to the creation of the Prosper Lincoln community agenda. Thousands of people participated in prioritizing Lincoln's focus areas of Early Childhood, Employment Skills, and Innovation.
Prosper Lincoln has an action-packed strategic plan to ensure great progress in these focus areas by year 2020. It is through the power of numbers - working toward a common goal - that our community agenda can best respond to Lincoln's needs and opportunities.
Would you like to follow Mae's lead? Find out how you can turn your passion into a lasting legacy for our community. Contact Paula at 402-474-2345 or paulam@lcf.org.