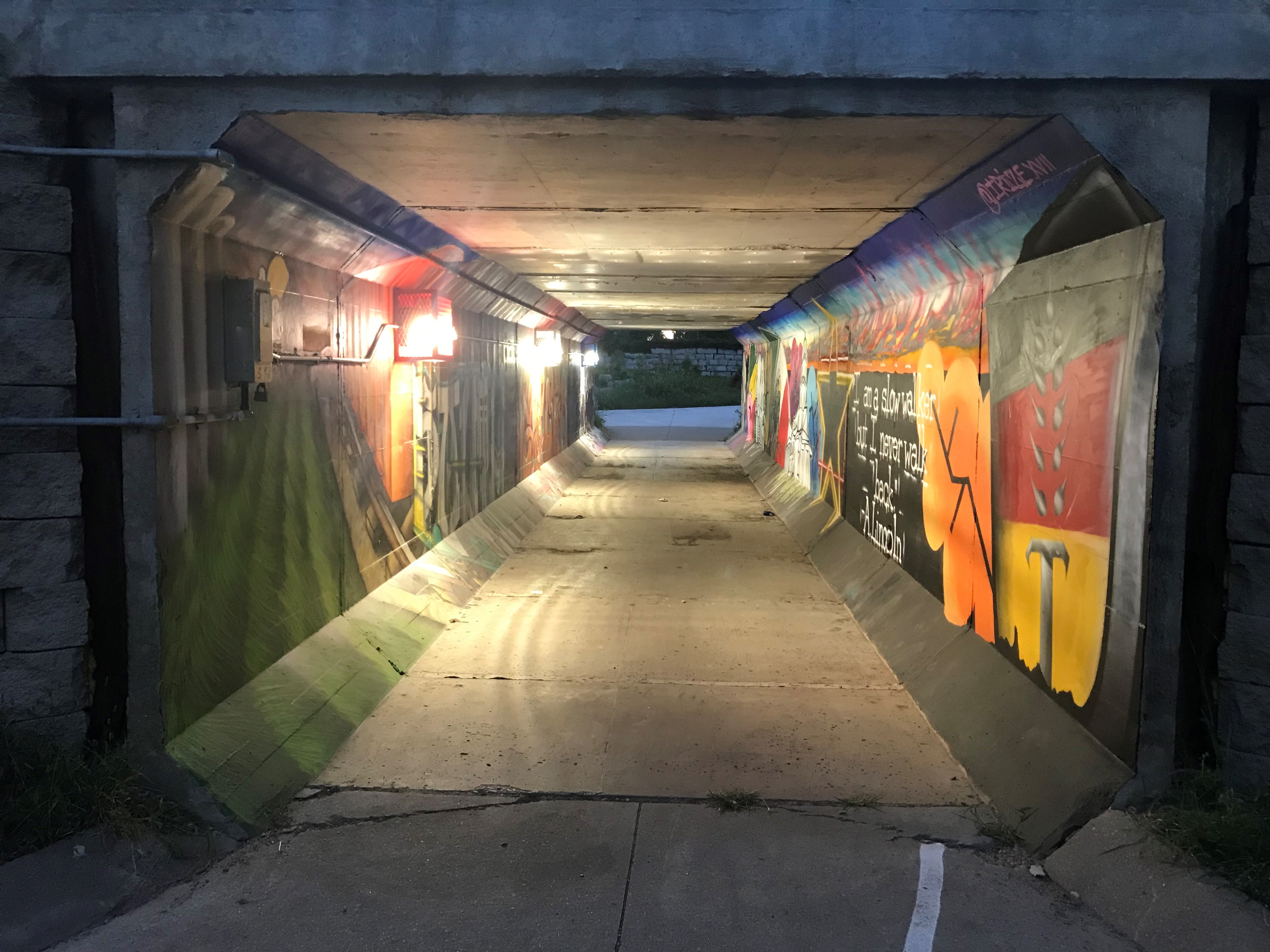 LCF's Open Door Grants support efforts by nonprofits in Lincoln and Lancaster County to meet current needs or address challenges and opportunities facing our community. These grants provide flexible and critical funding to nonprofit operations, programs, and capital projects. One such capital project making our community healthier and safer is in the South Salt Creek neighborhood.
Partnership for a Healthy Lincoln (PHL) is a non-profit organization dedicated to improving the health, wellness, and fitness of communities, thousands of people at a time. 
PHL recently received an Open Door Grant to support their Streets Alive! campaign. PHL identified a Streets Alive! project in the South Salt Creek neighborhood to improve the condition of the railroad tunnel on 3rd and F Street. BNSF Railroad owns the tunnel, one of only three safe pedestrian passageways across the railroad tracks in the neighborhood.
The maintenance of the tunnel had been severely neglected over the years, with overgrown landscaping, leaking walls, and poor lighting. When the tunnel became an unsafe option for residents, the Salt Creek Neighborhood collaborated with others to improve the passageway. 
After the City improved the retaining wall as part of another project, BNSF repaired the tunnel walls and ceiling. Local artist Micah Mullins was then selected to create a new vibrant mural in the tunnel, reflecting the history and culture of the neighborhood through colorful graffiti. LCF awarded an Open Door Grant to PHL to help fund the project.
"The Open Door Grant we received almost perfectly matched the cost of upgrading the lighting in the tunnel," said Veronica Cockerill, PHL program coordinator.
Veronica hopes projects like this will shed some light, not only on South Salt Creek but on what people can do to improve their own neighborhoods. She feels projects like this can generate positive attention and have a snowball effect.
"This neighborhood doesn't get much economic development or positive attention," said Veronica. "We hope this project inspires other potential funders and partners to see what was done and think about what they can accomplish in other parts of the city."
For more information on Open Door Grants, visit LCF.org/helping-nonprofits/open-door-grants.