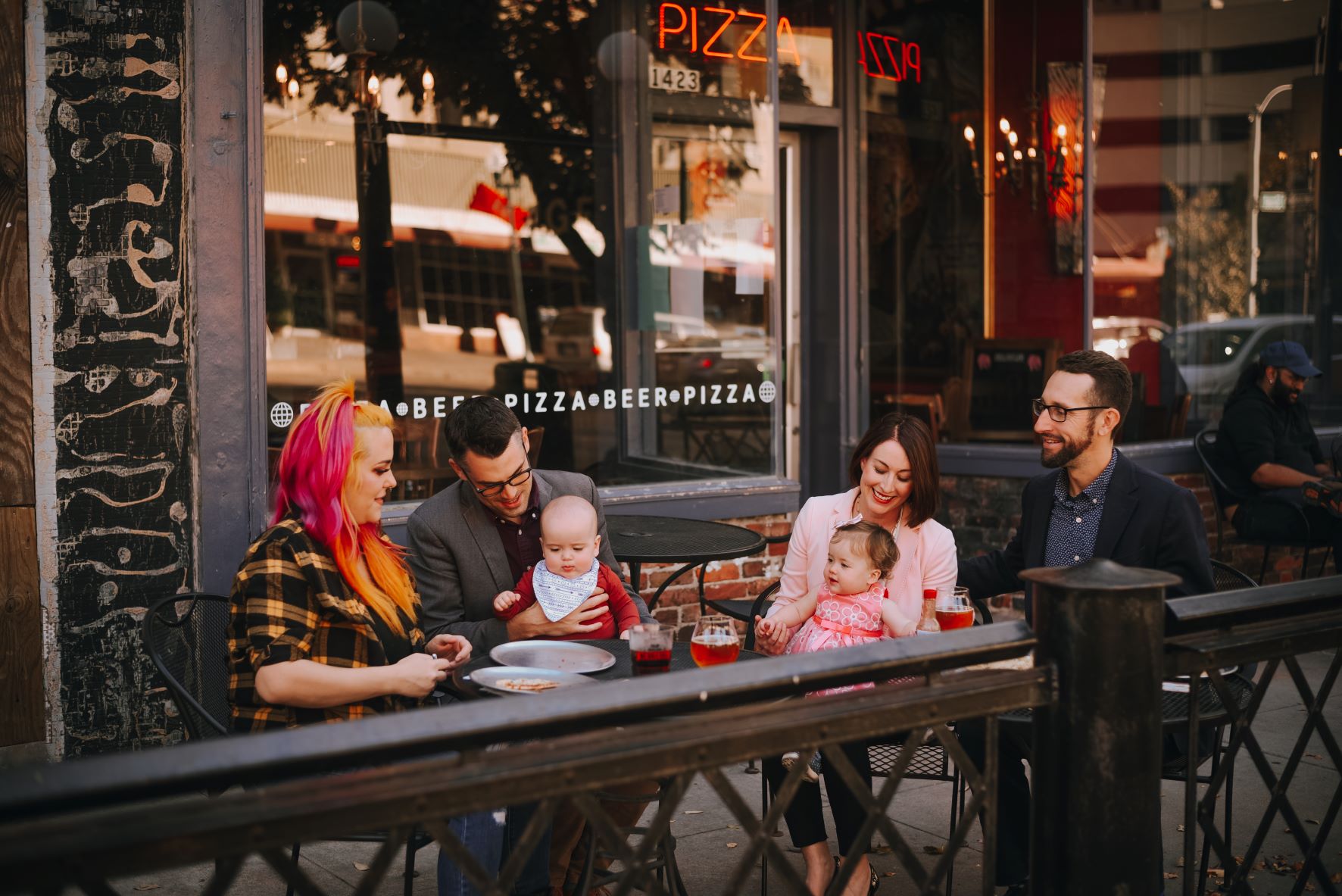 What does the word "community" mean to a group of working professionals who are building their careers and families here in Lincoln? A few young members of LCF's Legacy Society recently came together to discuss just that. 
Beyond the bike trails, restaurants, businesses, and venues that make up our great city, the consensus was that community is more of a feeling. A "big-small town." A place where you want your kids to feel safe to learn, grow and ultimately give back to.
"There is something special about Lincoln," said Kyle Cartwright. "It is the perfect mix of urban and rural."
His wife Koren agreed. "I always thought that I wanted to leave, but the more I travelled, the more I realized it is really nice to come home to Lincoln."
The Cartwrights have both recently taken entrepreneurial plunge. Koren co-owns a new salon set to open next year and Kyle is the co-founder & COO of SEAchange, LTD which he will be pursuing full-time in 2022. They met in high school when they both participated in the Lincoln High Marching Band. The Cartwrights are raising their son Porter in the city they grew up in and are experiencing the magic that Lincoln has to offer young families. 
Janell Walther, senior research manager at the University of Nebraska Public Policy Center, and her husband Bryan Seck, Chief Talent Strategist at Kawasaki Lincoln, didn't grow up in Lincoln, but their love story started here. In fact, they met in front of an elevator at the Lincoln Community Foundation building. They chose Lincoln as the place to start their family and enjoy getting out on its many bike trails with daughter Miriam.
Law school brought Max and Reagan Rodenburg together. Originally from Omaha, Reagan is currently a benefits advisor with UNICO Group. Her husband Max, a partner in Rembolt Ludtke's business services and estate planning practice groups, was first introduced to LCF in 2015 when his parents were going through their estate planning process.
"I was really impressed by the opportunities to utilize LCF through planned giving," said Max. "At the time, joining the Legacy Society was as simple as listing the Foundation as a beneficiary on a retirement account. Now as we grow in our lives, we can make our legacy plans a little more formal and have a little more weight to them than when I was a law student."
All three couples have made plans either through a will, trust, or beneficiary designation to establish legacy gifts now, to be funded at end of life. As the conversation turned to giving back, the young philanthropists agreed that establishing their legacy giving plans through the Foundation offered both ease and peace of mind.
"There are many young working professionals out there without a current will or estate plan that care deeply about their community," said Reagan. "Working with LCF is an easy and simple way to allocate funds to the causes you care about."
When asked about the benefits of establishing legacy plans at a young age, Max laughed. "Well, you're talking to an estate planning attorney here."
"It's an important exercise to go through for a plethora of reasons," he continued. "It challenges you to think about the causes that you want to support and what you want your legacy to look like. You can really find the joy in giving back."
Finding joy in giving back resonated with the Cartwrights as well.
"You start giving and you feel good about that, and you give a little more. It's contagious, and that really translates well into planned giving," said Kyle. "Down the road, you are going to be glad you started the process early, identifying what matters to you and creating your values in a community sense."
The flexibility that the Foundation offers in terms of legacy planning was also important to all three couples. Especially after already experiencing so many "unprecedented" events in their lifetime.
"As the community grows and as needs change, we know that we will be working with an organization that can pivot and address issues as they come up," said Bryan. "Nobody would have seen Covid coming in 2018. Who knows what the future will bring. With this gift, we know the Foundation will be there to address needs we may not have even thought of before."
Janell agreed. "I think that philanthropy has the opportunity to be really nimble and flexible," she said. "LCF's philosophy and professional staff allow it to pivot quickly, in partnership with government and private sector leaders, to meet community need."
Ultimately, all three couples felt that LCF was an institution they can count on to achieve their charitable goals throughout their lifetimes.
"We believe in the mission of the Foundation," said Bryan. "We feel very confident that whether it's now, or 50 years from now, the dollars that are in our gift will be used to improve the community."