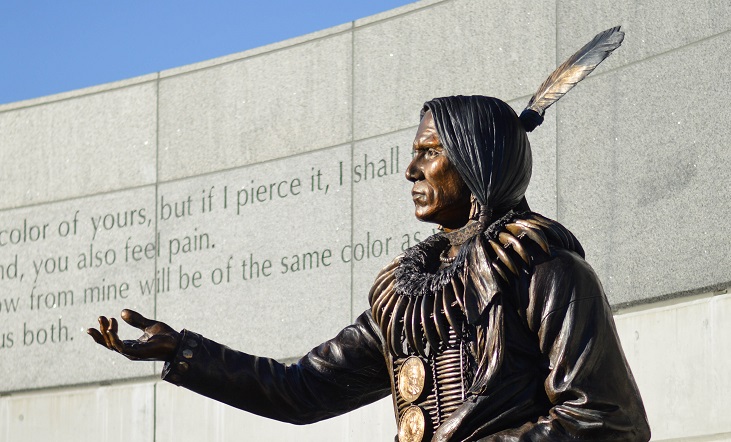 Donald Campbell believed he found the story of Nebraska when he discovered the story of Ponca Chief Standing Bear.
"His story is the story of our community, our state – ultimately a tale of sensitivity and kindness – capturing the essence of who we are and what we represent," said Don.
Chief Standing Bear's legacy so moved this Lincoln native – this philanthropist, lover and benefactor of the arts – he provided major funding to commission a world-class sculptor to create three dramatic 10-foot Standing Bear bronze castings, now poised on land stretching from Nebraska's Niobrara River eastward to the Atlantic Ocean.
One statue stands grand and tall on the University of Nebraska-Lincoln's edge of Centennial Mall, dedicated in October 2017. A second rests regally on a hill overlooking the Ponca tribe's homeland near Niobrara. The final of the three – installed this fall – took its proud place in a prominent position within the National Statuary Hall at the U.S. Capitol in Washington, D.C., as one of two statues designated by the Nebraska State Senate.
These gorgeous works recognizing Standing Bear's quintessential place in Nebraska history emerge from a unique partnership between Don, the City of Lincoln and the Nebraska Commission on Indian Affairs, with Don donating funds for the D.C. sculpture through the Lincoln Community Foundation and a qualified charitable distribution from his IRA.
Judi gaiashkibos, executive director of the Nebraska Commission on Indian Affairs, said Don's gift has changed the landscape of Lincoln. "Don is a very kind and humble man who has a deep regard for history, and through his support of Standing Bear, is leaving a major legacy that will inspire others to do better. He is Standing Bear Strong," said Judi.
She remembered how Don felt an immediate sense of compassion for this Ponca chief. "Don was so impressed with the dignity Standing Bear was able to maintain in the face of such shameful treatment. He agreed with me that the story of Standing Bear was a teachable moment in America's history."
Don has lived in San Francisco much of his professional life and was largely unaware of Standing Bear until he learned the narrative from Judi in their shared experience as Doane University Trustees.
"Judi had this dream to honor Standing Bear, and when she introduced me to his story – I knew something had to happen," he remembered. "Here was a story of national importance, yet it had not been told … Here was a man who brought dignity to our Native Americans, and we had the opportunity to do something significant."
Don helped commission renowned artist Ben Victor, whose ultimate sculpture captured the powerful image from 1879 when the Ponca tribal leader stood on trial, his right hand outstretched, fighting for the freedom to return to his homeland and bury his son.
The first two castings remain in Nebraska. The final piece arrived in the nation's capital in September, a reality that happened thanks to Don's unique gift to the Lincoln Community Foundation made possible with a qualified charitable distribution from his IRA (see sidebar).
"Lincoln is my home, Nebraska is my home, and it feels very good to have been part of this," Don said. "This is a piece of Nebraska history, a piece of Native American history, that is an essential part of the nation's history. We have not always done a good job of telling the story of Native Americans, and this is a wonderful chance to pass on that story to the future."
USING IRAS FOR CHARITABLE GIFTS
Don Campbell made a qualified charitable distribution (QCD) from his IRA to a special fund at the Lincoln Community Foundation in order to bring the story and sculpture of Ponca Chief Standing Bear to Washington, D.C. this fall.
"When you reach a certain age, you must start taking money out of your IRA accounts," Don explained. "But I discovered one viable alternative if you are in a position to give, where you can donate a limited amount of IRA funds to a charity. It counts toward the money you must take out but is not taxed. What a great way to give back to your community."
If you are age 70½ or older and make a contribution directly from your IRA to a qualified charity, such as the Lincoln Community Foundation, you can donate up to $100,000 without it being considered a taxable distribution. For married couples, each spouse can make a qualified charitable distribution up to the $100,000 limit for a potential total of $200,000.
A QCD may offer tax advantages over a direct cash gift by the donor:
• If the donor does not itemize deductions, a charitable gift made with cash will create no tax benefit. By contrast a QCD counts toward the donor's Required Minimum Distribution but is not included in the donor's adjusted gross income. The tax benefit is that a distribution from the IRA that would otherwise be taxable becomes non-taxable when it goes directly to charity.
 
• The exclusion of the QCD amount from the donor's adjusted gross income may also positively affect several other calculations such as the amount of social security benefits that are taxable and the cost of the donor's Medicare premium.
For more information and examples of ways you can use an IRA contribution to achieve your charitable goals, contact Chip DeBuse at 402-474-2345 or chipd@lcf.org.