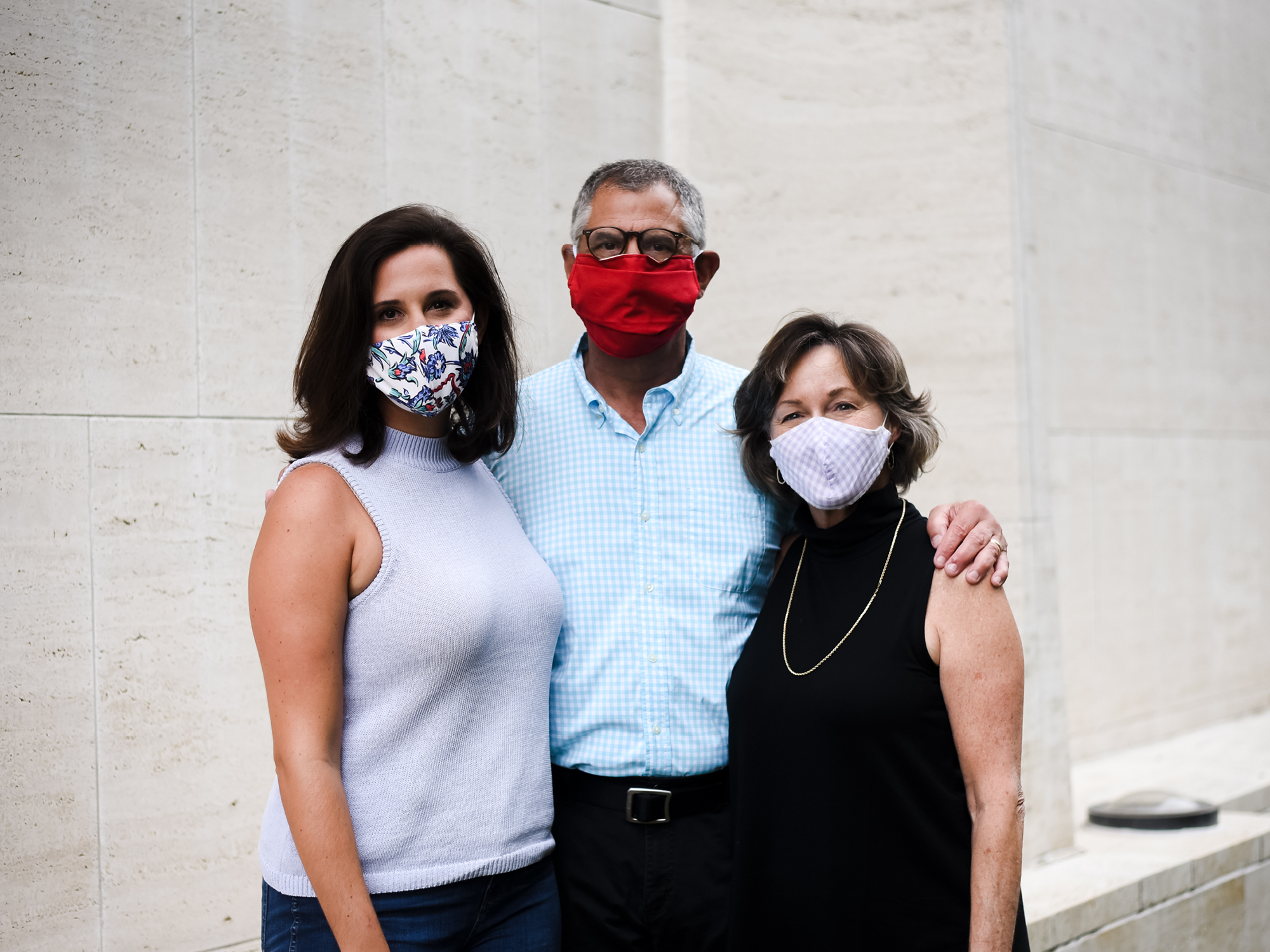 The Gade Family Spreads Love with Masks for Vulnerable Neighbors
"What can we do to make this happen in Lincoln?" That's the question Steve and Nancy Gade asked when Nancy read articles earlier this spring describing how other communities were providing washable masks for vulnerable residents. 
As businesses began to reopen in May, the Gade's understood that Lincoln needed to have additional conversation about masks. "It's about more than keeping people healthy," Steve said. "It's also about the economy and getting people back to work safely."
So, the Gade's got to work. As an executive at Duncan Aviation, Steve knew the company was cutting fabric for masks at no charge and distributing to various groups around the community for final stitching. Nancy reached out to the city of Lincoln, who responded immediately with support for the Gade's efforts and connected them with the Lincoln-Lancaster County Health Department. And that's when their simple inquiry blossomed into a comprehensive program focused on providing underserved community residents with washable, reusable masks. 
"We learned that the primary barrier to ensuring that masks can be made available was money to buy material," said Nancy. And as they immersed themselves in the process and continued their outreach, the Gade's were overwhelmed by the community response. 
"All the way along the line, everyone said, 'Yes, how can we help,'" Nancy said. "It was phenomenal how this partnership came together, and it reminded us how special Lincoln is." 
The next step was raising money. Nancy and Steve were ready to reach out to their professional and personal networks and involved their daughter Paige as well. "Although we are novices when it comes to fundraising, it was very fun to come together and work on this as a family," Nancy said. 
Steve asserted that partnering with the Lincoln Community Foundation to create a fund supporting their fundraising efforts has been critical to their success. Paige agreed. "It's been such a good educational experience to realize how LCF makes it so easy to serve a need in the community," she said. "You don't have to have a ton of money to create a fund that can truly make a difference."
To date, local businesses and community members have contributed more than $10,000 to LCF's Washable Masks For All Fund, and the health department continues to connect with local nonprofits regarding their needs for additional masks. "Right now, our goal is $12,000," said Nancy. "We are still trying to keep pace with the identified needs." 
In the end the Gade's are grateful for the chance to serve the community. "It's been so rewarding to work on this because Lincoln is such a supportive town," Steve said. "So many people have said, 'I am in a position to help, and this is a great cause.'"
If you are interested in learning more about how to support the Washable Masks For All Fund, please contact Tracy Edgerton at tracye@lcf.org, or go to https://my.lcf.org/washablemasks.