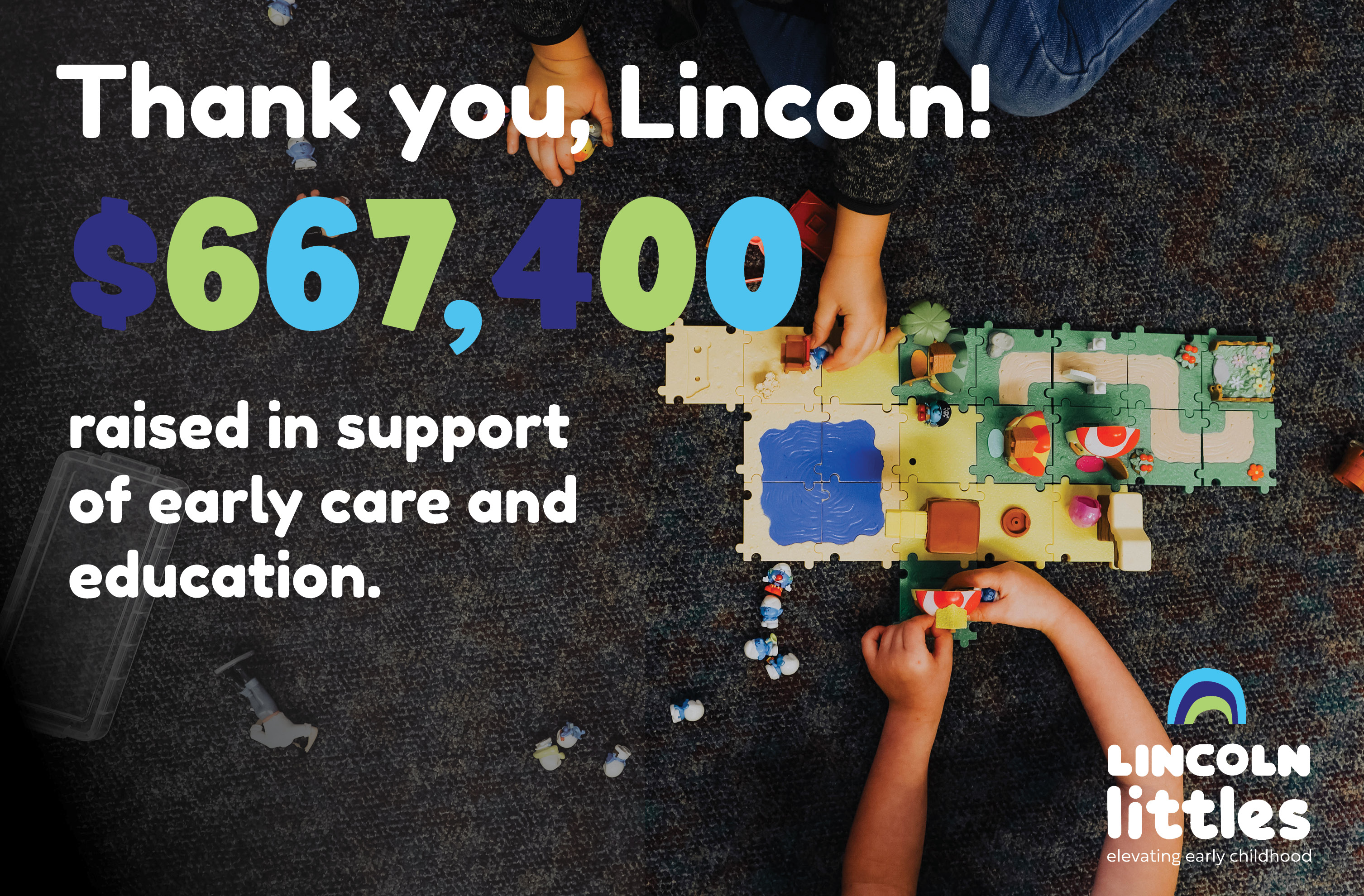 The Lincoln Community Foundation (LCF) announced that its recent annual giving campaign for Lincoln Littles raised $667,400 in community support of early care and education. Launched in 2019 and inspired by the Prosper Lincoln community agenda, LCF has raised nearly $4 million in support of Lincoln Littles programs, operations, and initiatives – including tuition assistance for infants, toddlers, and preschoolers to attend quality early care and education programs throughout the community.
"Once again, generous donors and organizations showed their support for our youngest residents," said Alec Gorynski, LCF president/CEO. "With this community investment, Lincoln Littles can continue the important work of addressing the complexities surrounding early childhood and raising opportunities for every child to access quality care and education."
Additionally, Lincoln Littles received a $300,000 Workforce Development Grant from the Nebraska Department of Labor, bringing this year's total funding to $967,400. The grant program supports the recruitment and retention of teachers, including childcare and early childhood education providers. Lincoln Littles will use this grant funding to offer tuition assistance for those with young children who want to pursue or continue a career in early childcare.
"Many of Lincoln's children and families will breathe a sigh of relief in the next year," said Anne Brandt, executive director of Lincoln Littles. "These funds will allow us to continue to fill a critical need: affordable, high-quality early care and education for working families."
In addition to increasing affordable childcare options for families, Lincoln Littles has expanded its work to focus on solutions to additional challenges:  increasing quality in early care and education, educating and engaging businesses and the larger community, supporting workforce development in the childcare sector and influencing policies to be responsive to the needs of young children and their families.
Lead Donors:  Acklie Charitable Foundation, Robert & Barbara Bartle, Bettenhausen Family Foundation, Drs. Bob & Stacie Bleicher, The Buffett Early Childhood Fund, Rosalind K. Carr in memory of Professor James D. Carr, Shirley & Jerry Daugherty, Donlan Foundation, Bob & Jan FitzSimmons, Larry Frederick & Robyn Sitzman, Harbor of Dreams, Inc., Barb Hoppe Johnson & Bruce Johnson, Kile & Cuz Johnson, Kawasaki, Jim & Penny Krieger Family Foundation, Drs. Marilyn & David Moore, Mike Munro & Susie Keisler-Munro, Nebraska Children and Families Foundation, Pinnacle Bank, Drs. Bob & Lisa Rauner, Sue & Al Saathoff, Rhonda Seacrest, Dr. Bob & Dottie Shapiro, Susan Sehnert Stuart, Tom & Sue Tallman, Temme Family Foundation, Art & Carol Thompson, Sue & Ed Tricker, Dr. Eileen & Richard Vautravers, Mae Whitmer and WRK Family Foundation.