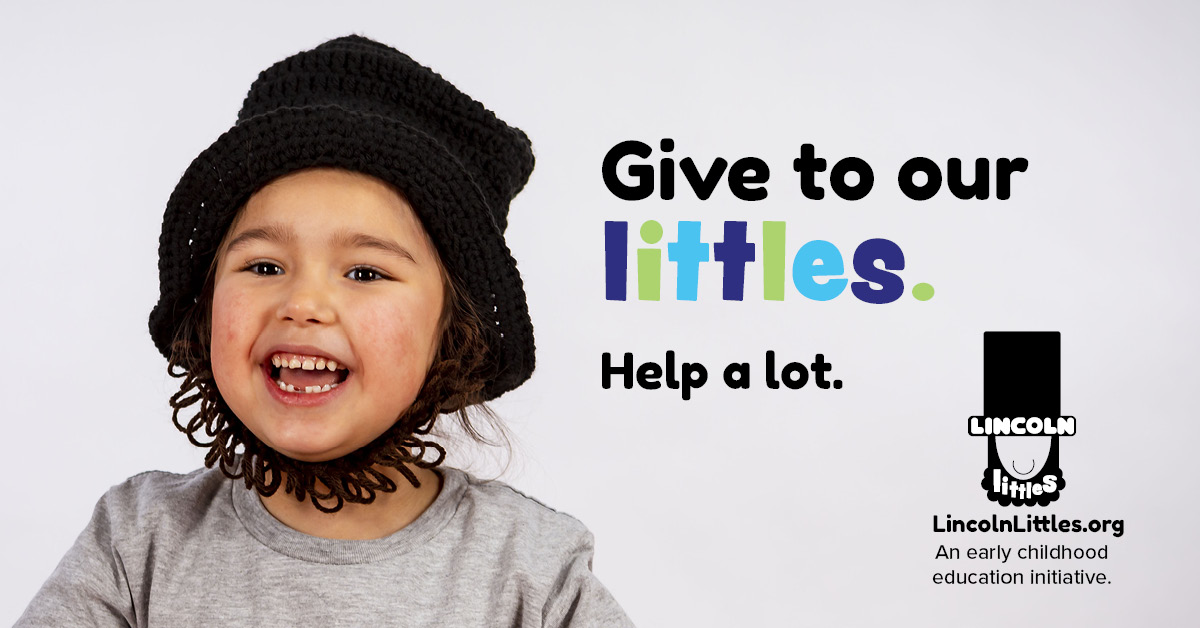 The fourth Lincoln Littles Giving Day, held on February 9 raised $670,123. Hosted by the Lincoln Community Foundation (LCF), the annual giving day raises funds for tuition assistance, allowing more children in need to access quality early childhood education. The day is inspired by the Prosper Lincoln Early Childhood community agenda goal of increasing accessible and affordable high-quality early childhood education. 
"Year after year, Lincoln Littles Giving Day harnesses the awesome power of philanthropy" said LCF President, Alec Gorynski. "This community sees the critical need for all children in Lincoln to receive the quality early childhood education and care that they deserve. Thank you, Lincoln!"
This year, the City identified $100,000 Community Development Block Grant funds to contribute to the Lincoln Littles effort. Mayor Leirion Gaylor Baird once again issued the "Mayor's Big Challenge for Lincoln Littles," to encourage community donations. Matching sponsors provided backbone funding for the giving day. 
"We extend our gratitude to the Mayor for her support of Lincoln Littles," said Gorynski. "Our generous matching fund sponsors and community answered the call with their donations. These funds will serve working families and make a long-term impact on their children's success, stability, and development."
Since 2019, the giving day has raised nearly $3.1 million for the Lincoln Littles Early Learning Fund. Grants from the fund are distributed to early childhood education providers in Lincoln that are on Step 2 or higher of the state guidelines for Step Up to Quality and who serve children in need. Since Lincoln Littles launched, there has been a 146% increase in early childhood education providers in Lincoln participating in Step Up to Quality.
Lincoln Littles Giving Day Matching Sponsors include:  The Buffett Early Childhood Fund, Acklie Charitable Foundation, Harbor of Dreams, Inc., Mae Whitmer Early Childhood Fund, Bettenhausen Family Foundation, Drs. Bob & Stacie Bleicher, Rosalind K. Carr in memory of Professor James D. Carr, Shirley & Jerry Daugherty, Barbara Hoppe & Bruce Johnson, Kile & Virginia Johnson, Kawasaki Motors Manufacturing Corp., U.S.A. Good Times Foundation, Barbara Hoppe Johnson & Bruce Johnson, Kidwell Electric, Inc., Lincoln Industries, Robert & Cynthia Milligan, Drs. Marilyn & David Moore, Nebraska Children and Families Foundation, Drs. Bob & Lisa Rauner, Sue & Al Saathoff, Rhonda Seacrest, Dr. Bob & Dottie Shapiro, Tom & Lisa Smith, Tom & Susan Tallman, Temme Family Foundation, Sue & Ed Tricker, Dr. Eileen & Richard Vautravers and Ross & Judy Wilcox.
  
The Lincoln Community Foundation, established in 1955, strives to continually enrich the Lincoln community by promoting and achieving perpetual philanthropic support. The Foundation has distributed more than $195 million in grants to nonprofit organizations that have improved the lives of thousands of residents.