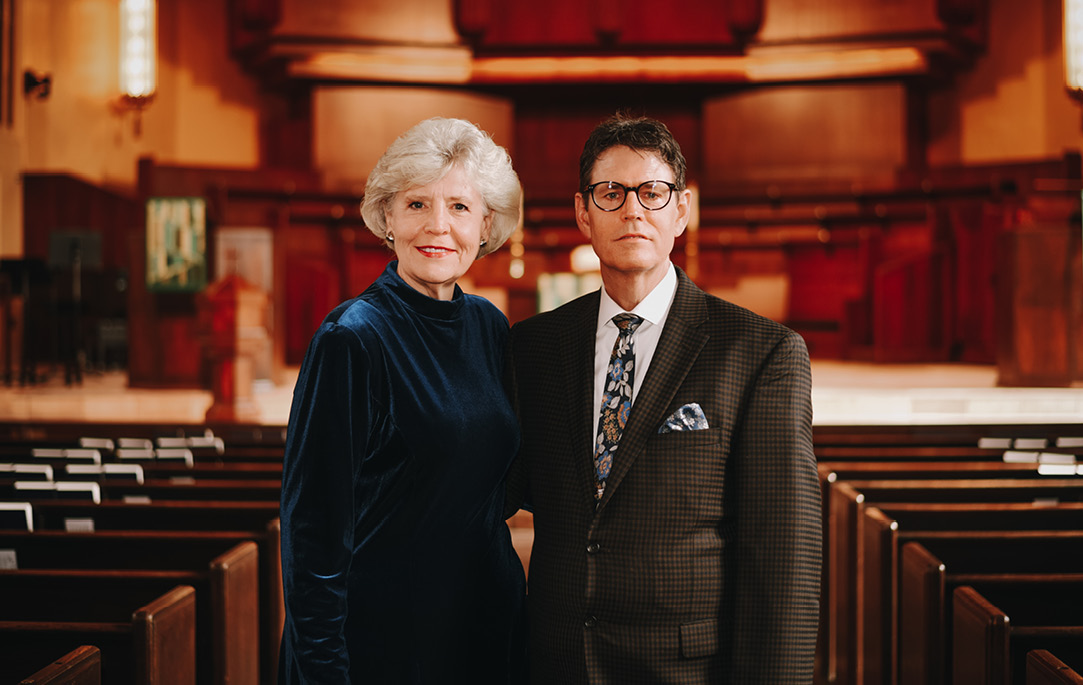 Listening to Matthew and Ann Finkner speak about their attraction to Lincoln and each other, one thing becomes clear: music is a strong link.  
Matthew came to Lincoln from Minden, Nebraska, to be the drum major of the Cornhusker Marching Band.  
Hailing from Rushmore, Minnesota, Ann arrived in Lincoln by way of her new position with Farm Credit Services. Her childhood fascination with the Huskers made Lincoln an easy choice, even after her position moved to Omaha.  
"Omaha has lots to offer, but Lincoln is home," she said.  
While here, Ann started attending Hope Reformed Church (now Hope Community Church), and Matthew served as their organist and choir director. A gifted vocalist, Ann joined the church choir, and after some friendly persuasion from friends, they attempted a first date. They have been together ever since.  
"She could sing anything I needed to sing," Matthew recalls. "It was a great partnership."  
"Music is what brought us together," Ann added. "And what keeps us together."  
Church and music brought the Finkners together. It also gave Ann her earliest memories of philanthropy. As a child, Ann remembers seeing her parents and grandparents support causes that were important to them, including the family church. That spirit of giving has expanded over the years and became an increasingly important part of Ann's life.  
"I'd say as we've experienced more of what is possible or where needs are, that has expanded our giving beyond just religious affiliation," she said. 
Matthew agreed. "For me, it was seeing what a lot of organizations were doing and wondering what I could do to help," he said. "There are so many wonderful organizations doing amazing things, so you want to help them." 
The Finkners make contributions to many local nonprofits that serve the arts, human needs, and education. One organization, however, sticks out as particularly special to them: Wyuka Cemetery. 
"Wyuka is one of the most interesting places in Lincoln," Matthew revealed. "We walk through Wyuka a lot. It's full of history, and that's one of the causes dear to our hearts."  
Ann echoed this sentiment.  
"I am big into genealogy," she confessed. "Cemeteries are my library, with what you can learn from them. We take good care of where we live in our living bodies. We think it's important to take care of where our bodies rest as well."  
Their advice to others is to pursue personal passions and give in the best way they can.  
"Some people think they don't have a lot of money to give right away, but that isn't what it takes," Matthew reminds us. "It just takes giving what you can."  
"Find your passion and ask yourself how you support it," Ann adds. "What time, talents, and resources are you giving back?"  
Matthew's music career resulted in the couple switching churches from time to time. Now they attend a church where Ann wanted to sing, First-Plymouth. After Matthew retired from his director position, he became increasingly involved in First-Plymouth and Abendmusik, an organization that enriches and inspires the community through music using both international artists and locally produced performances.  
For the Finkners, their philanthropic legacy is holistic. They enjoy supporting causes that help people live life. They are equally passionate about contributing to the organizations that preserve people's legacy when life has ended.  
One word describes the Finkners' passion for their church, Lincoln, each other, and their philanthropy... "harmonious." What a beautiful legacy. 
LCF's Legacy Society 
When Matthew retired, the Finkners became more involved in Abendmusik and First-Plymouth Congregational Church. They also became aware of the Lincoln Community Foundation when Ann served on the church's board of trustees. As the church began working with LCF to manage its long-term endowed funds, the Finkners began considering whether LCF could help them with their philanthropic legacy.  
Tracy Edgerton, Vice President for Strategic Giving, helped the Finkners discover all the possibilities, from endowed funds and donor advised funds to estate planning.  
"LCF was particularly helpful with our estate planning process," Ann said. "It's been helpful to have their expertise and understanding, especially when dealing with organizations inside and outside of Lincoln."  
By creating their estate plans, they became members of the Foundation's Legacy Society, honoring donors who make an end-of-life gift.  
"Tracy and the Foundation have been there at every turn, saying 'yes, we can do this, here is a way to do this,'" Matthew said. "We wouldn't have known how to do that ourselves."  
For anyone considering becoming a member of the Legacy Society or interested in opening their first fund, the Finkners say no amount is too small, and there is no time like the present.  
"It's never too late to start," Ann affirms. "You never know what tomorrow holds or what today holds." 
"And don't think you have to start big," Matthew adds. "Start small and increase it when you can. You'll be surprised how good it makes you feel."  
Are you interested in giving to Lincoln Forever and becoming a member of LCF's Legacy Society? Contact Tracy Edgerton at 402-474-2345 or tracye@lcf.org.