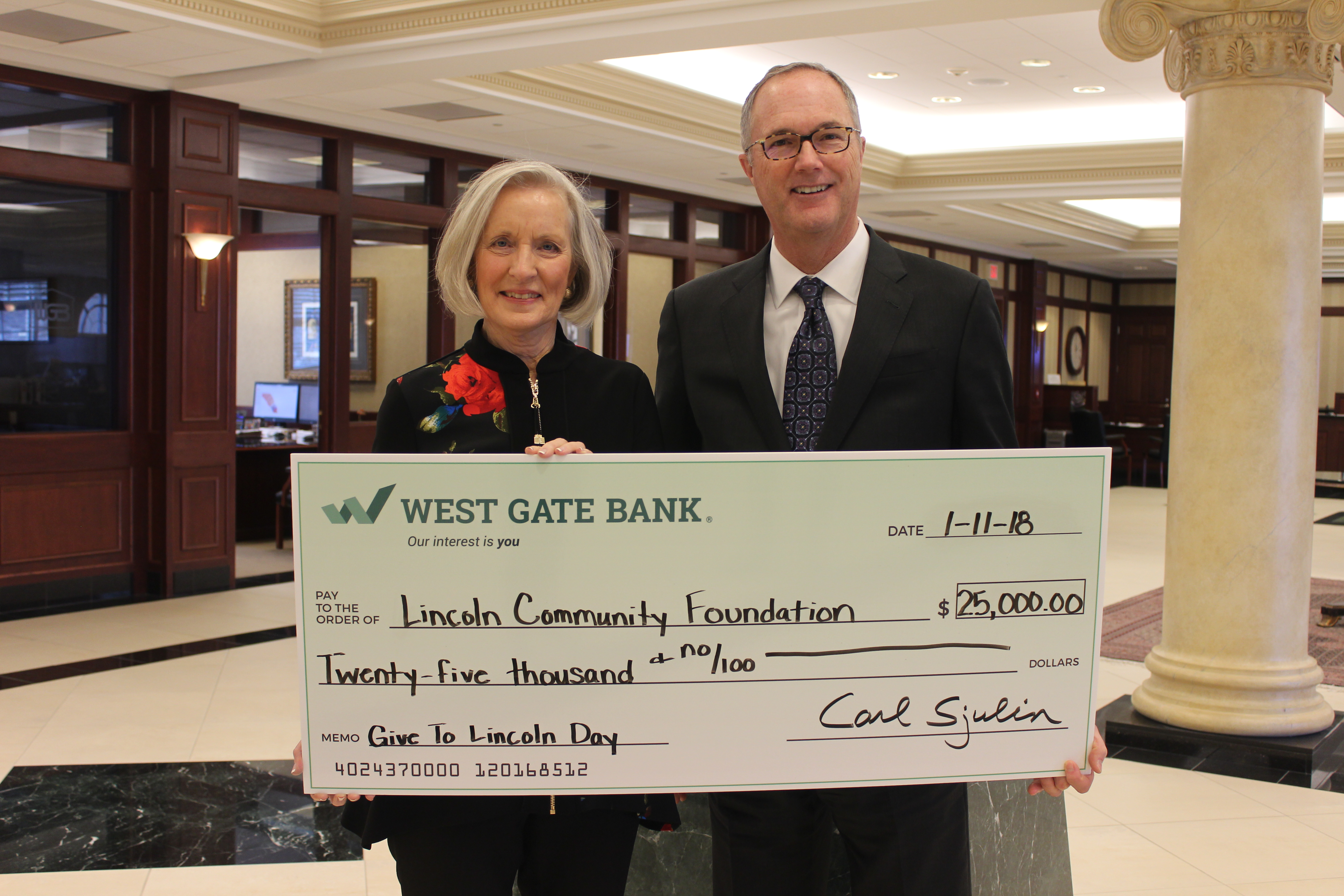 Give To Lincoln Day will have the largest match fund in its seven year history thanks to a generous gift from West Gate Bank. Lincoln's annual giving day is scheduled for Thursday, May 31. Every participating nonprofit organization will receive a proportional share of the record $400,000 match fund, based upon its percentage of total dollars raised.
"West Gate Bank is proud to be celebrating 50 years of serving the Lincoln community," said Carl Sjulin, President of West Gate Bank. "As a locally-owned, community bank, giving back to Lincoln is such an important part of our mission. Our commitment of $25,000 per year for three years to Give to Lincoln Day is one of the many ways we are investing back into the community in order to keep Lincoln growing and thriving."
"We are so grateful for West Gate Bank's generous donation to Give To Lincoln Day, allowing us to grow the match fund," said Barbara Bartle, President of Lincoln Community Foundation. "This event, which many local nonprofits depend upon, will accomplish so much more thanks to this increased match."
All local 501(c)(3) nonprofit organizations that have an office in the community and serve the Lincoln or Lancaster County may participate in Give to Lincoln Day. Registration for nonprofits opens on March 1 at GiveToLincoln.com.
Last year, Give To Lincoln Day raised a record $3,693,307 for 365 local nonprofits. Give To Lincoln Day aims to promote philanthropy in the city. By helping nonprofits raise funds, the daylong event helps them carry out their important work and supplements budgets which are challenged to meet current demands. It also allows nonprofits to tell their stories and attract new donors. Individuals may make their charitable donation to local nonprofits during this 24-hour day of giving at www.GiveToLincoln.com.