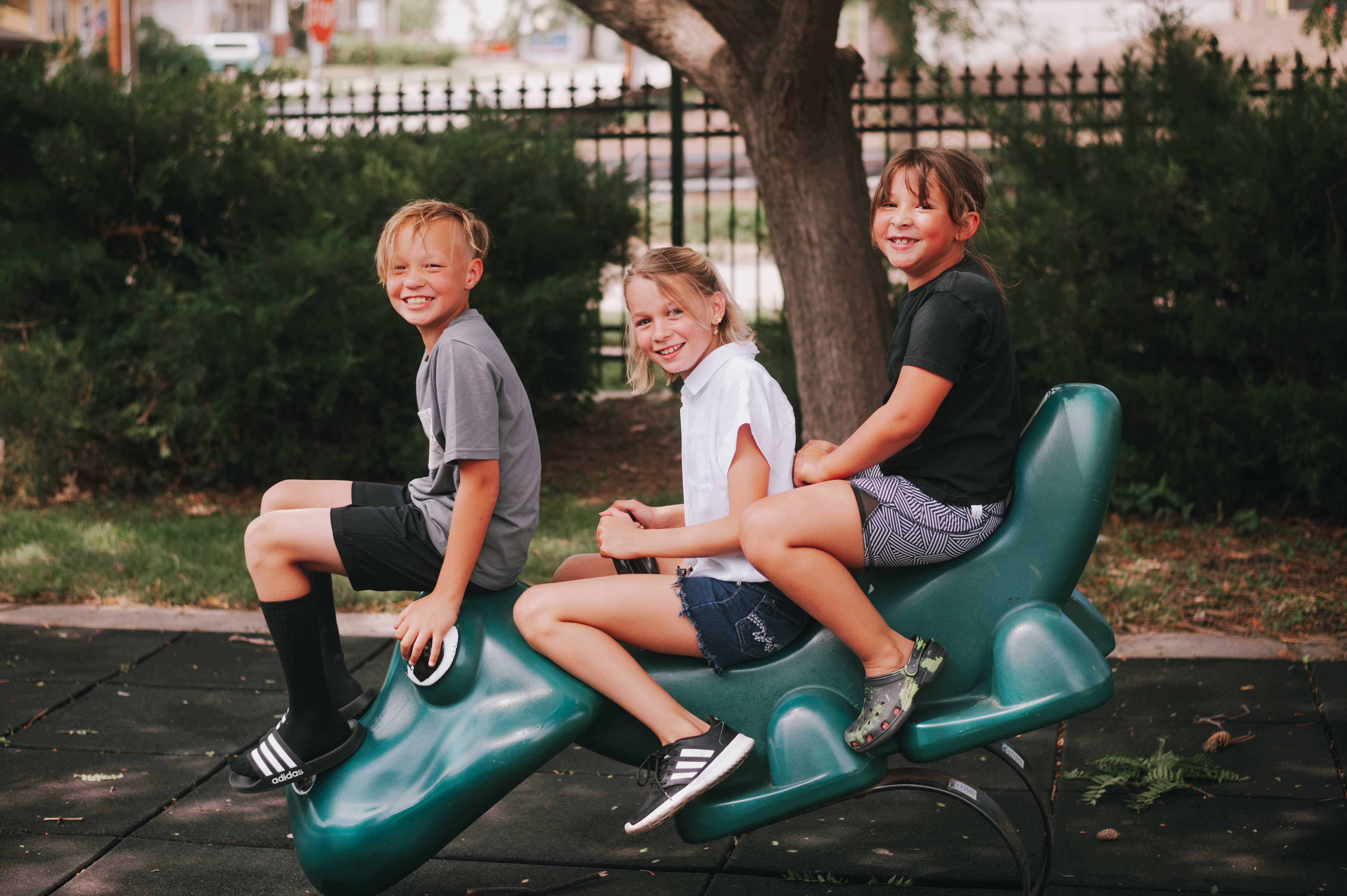 The Trust for Public Land recently reported that 90 percent of Lincolnites live within a ten-minute walk of public green space. That may be surprising, until you reflect on the supporting statistics: 
 
Lincoln has 136 city parks, 134 miles of trails, 9 city pools, 5 public golf courses, 4 dog runs and 4 disc-golf courses . . . 
 
Clearly, this city and its residents value Lincoln's parks and public spaces. 
 
"People in Lincoln love their parks," said Lincoln Parks Foundation Fund Development Specialist Susan Larson Rodenburg. "They take ownership of their neighborhood parks." 
 
LCF grants have helped support and create those valued outdoor spaces since 1955, when the founding board of directors made its very first grant for $539.70 to Pinewood Bowl for the purchase of a movie and slide projector.  
 
Long after that first grant, green spaces in the Lincoln area continue to receive boosts from LCF donors. Kenneth J. Good and Sheila Dickinson Dinsmore Graf both established significant endowments that have enhanced and helped create public spaces, large and small. 
 
Sheila Dickinson Dinsmore Graf, who at one time was a single mother of five, was a lifelong volunteer who found her joy in serving others, often with a focus on helping the environment and those in need. She kept her endowment's focus broad, trusting that the foundation would use it to make Lincoln a better place to live. 
  
Kenneth J. Good grew up exploring the hilly woods around Peru, Nebraska. He studied Agronomy at UNL and spent the next 30 years working for the Soil Conservation Service. His beloved dogs, gardens, travels, and friends filled his days. When he died, he took care of those communities through endowments, including one at Lincoln Community Foundation. 
  
"Their endowments have allowed us to do transformational projects," said Michelle Paulk, LCF's vice president for community development and outreach. 
  
One of those transformational projects – Union Plaza – is a six-acre urban green space in Antelope Valley. A generous grant from Graf's endowment helped fund the Union Plaza amphitheater, where residents can enjoy live music and community activities. 
 
"We wanted to make Union Plaza a place for gathering, celebration and discovery," said Susan. "Our vision really did become reality. It's been a great catalyst."  
 
In addition, that green space tucked into the Antelope Valley floodplain project acts as a trail hub and has helped spur development and widespread neighborhood revitalization in the Telegraph District and beyond. 
 
"It changed the transition between downtown and the rest of the city," said Randy Gordon, who became executive director of the Lincoln Parks Foundation last October. 
   
By way of their endowments, both Graf and Good recognized that robust public spaces can help enhance the quality of Lincoln. And ensuring a happy future for Lincoln was something each of them wanted to support.  
 
"Lincoln Community Foundation is here to carry out our donors' wishes," Michelle commented. "We're fortunate that Graf and Good were forward-thinking and considered the future in broad ways, so that we can respond as Lincoln's needs change."  
 
At times, grants from their endowments have helped in the early stages of projects that are new to Lincoln, such as the creation of Lincoln's Bike Share program, BikeLNK, or the Southern Heights Food Forest.  
  
"These grants can help bring public focus to ideas that are new to the community," Michelle said. "Having the Foundation make a grant to a project can add legitimacy to it. And if the grant comes early in the process, it can give the project a lift and additional public exposure."  
 
Susan Larson Rodenburg said that these grants can have reverberating effects within the larger community. "LCF grants have been so important for so many projects–not only financially but also because they add credibility to the projects," she said.  
 
One of the longest ranging projects that both the Graf and Good endowments have supported is the Prairie Corridor on Haines Branch. This tallgrass prairie corridor will eventually stretch 12 miles from Pioneers Park to the Spring Creek Prairie Audubon Center, southwest of Denton. 
 
Grants from these endowments helped lay the groundwork and purchase trailside easements and will provide maintenance funds for long into the future.  
 
"I'm especially proud of the Prairie Corridor because it's long term and an important project locally," said Michelle. 
 
The Prairie Corridor is an environmentally important project. 
 
"We have an opportunity to help preserve some of the last remaining tallgrass prairie and to make sure that the land between Pioneers Park and Spring Creek Prairie remains a prairie," said Susan. "Such an undertaking requires leadership from all kinds of groups." 
 
"It is all about partnerships and collaboration," Randy agreed. "When you tie together what the Lincoln Community Foundation, the Parks Foundation, private donors and others can do, things succeed." 
 
Additional significant grants from Good and Graf have supported LCF's Tower Square, the airport entryway corridor, maintenance at Rudge Park, the South Haymarket Park development, and the new Lincoln youth baseball/softball complex. Grants have also funded smaller local projects, including the Beal Slough disc-golf course, Ballard Park pickleball courts, and an ADA-accessible boat and fishing dock at Holmes Lake. 
  
"I think some of these small grants can be really powerful. Disc golf and pickleball are taking off, and the Holmes dock is up and running," said Michelle. "When the need arises, these groups can come to us and seek support."  
 
Another project Michelle points to is the Air Park Recreation Center in northwest Lincoln. 
 
"We helped finish the fundraising for the Air Park Rec Center," she said. "It's an underserved neighborhood, and during the pandemic the costs of completion had gone up, so it was great to be able to help out in this growing area of Lincoln." 
 
Randy pointed to the city's commitment to improve parks and recreation areas throughout Lincoln. That commitment has a profound effect on people's lives. 
 
"Parks are the great equalizer," he said, "There's a real commitment towards equity in Lincoln, including in its parks. All of our neighborhood and larger parks are well maintained, which helps keep the community connected. And that's what gives Lincoln its small-town feel." 
 
Are you interested in making a lasting gift for Lincoln? Contact Vice President for Philanthropy Services Tracy Edgerton, at 402-474-2345 or tracye@lcf.org to learn more.