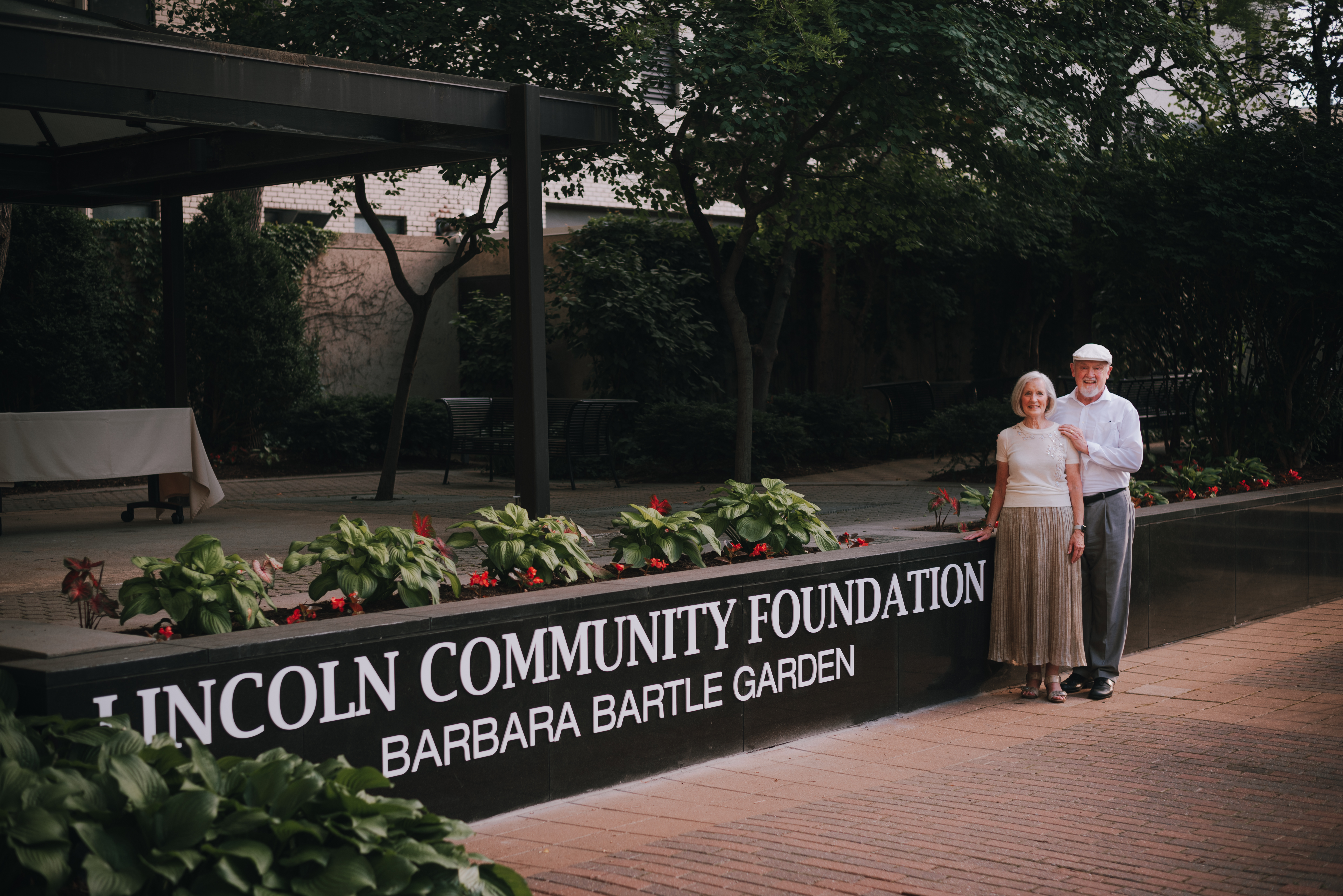 At the close of 2021, Lincoln Community Foundation's board of directors prepared to celebrate President Barbara Bartle's retirement and for a moment, members of the board were stumped. How do you honor a 12-year tenure of leadership such as Barbara's? The board decided it needed to be something as impactful as her time at the Foundation – something that truly would leave a mark. 
In June, the board unveiled and dedicated the newly named Lincoln Community Foundation Barbara Bartle Garden at LCF's annual Legacy Society, Benefactor and Trustee celebration.
"Barbara's impact on the Foundation will last for generations," said Alec Gorynski, president. "With the Barbara Bartle Garden we are able to permanently memorialize her leadership."
Barbara and her husband Bob recently set up the Robert F. and Barbara M. Bartle Garden Program Endowment Fund at the Foundation to support and fund programming in the Barbara Bartle Garden in perpetuity. 
The evening also celebrated and welcomed new Benefactors, Legacy Society members and Trustees. These folks are passionate leaders of the Lincoln community who inspire others through their investment in its future. 
Lincoln Benefactors
The establishment of LCF's Benefactor Society many years ago formed the backbone of the Lincoln Community Foundation. These gifts provide long-term stability for the Foundation and significant benefits to our community nonprofit organizations.
The Benefactor Society recognizes current or future gifts of $50,000 or more to the LCF Operating Fund, gifts of $500,000 or more to any endowed fund, and gifts of $1 million or more to any LCF fund made during a 12-month period.
Legacy Society
Many donors document their charitable plans in a will or trust, establishing a gift now and funding it at end of life. These legacy gifts are highly honored by the Foundation. 
THANK YOU TO OUR NEW BENEFACTORS AND LEGACY SOCIETY MEMBERS


New Benefactors, members of LCF's Legacy Society and Trustees gathered for a garden celebration on June 23. From left to right:  Alec Gorynski, Todd & Amy Peterson, Reagan & Max Rodenburg, Fred & Julie Hoppe, Margaret Bartle & Terry Wittler, Pam Manske, Ruth Gerber, Anne Vidaver, Shirley Daugherty, Derrel Martin, Bill Woito, and Robert Hinrichs.
New Benefactors
Jim & D'Arcy Blosser 
Rosalind & James* Carr
Pam Manske & Marty Adkins 
JoAnn* & Derrel Martin 
Linda Rossi
Scott & Jane Stuart
Art & Chris Zygielbaum 
 
New Legacy Society Members
Cory & Lynné Bergt
Rosalind Carr
Jenny Chapin
Lyle* & Doris Jones 
Dale E. & Janice E. Kimes
Pam Manske & Marty Adkins 
Linda Rossi 
Dr. Bruce & Debra Taylor
Anne Vidaver
Richard Vierk 
Bert & Susan Wilkinson 
Barbara* & Bill Woito
Art & Chris Zygielbaum
*honored posthumously

To learn more about planning a gift that leaves a lasting mark on Lincoln, contact Chip DeBuse, Vice President for Development, at 402-474-2345 or chipd@lcf.org.