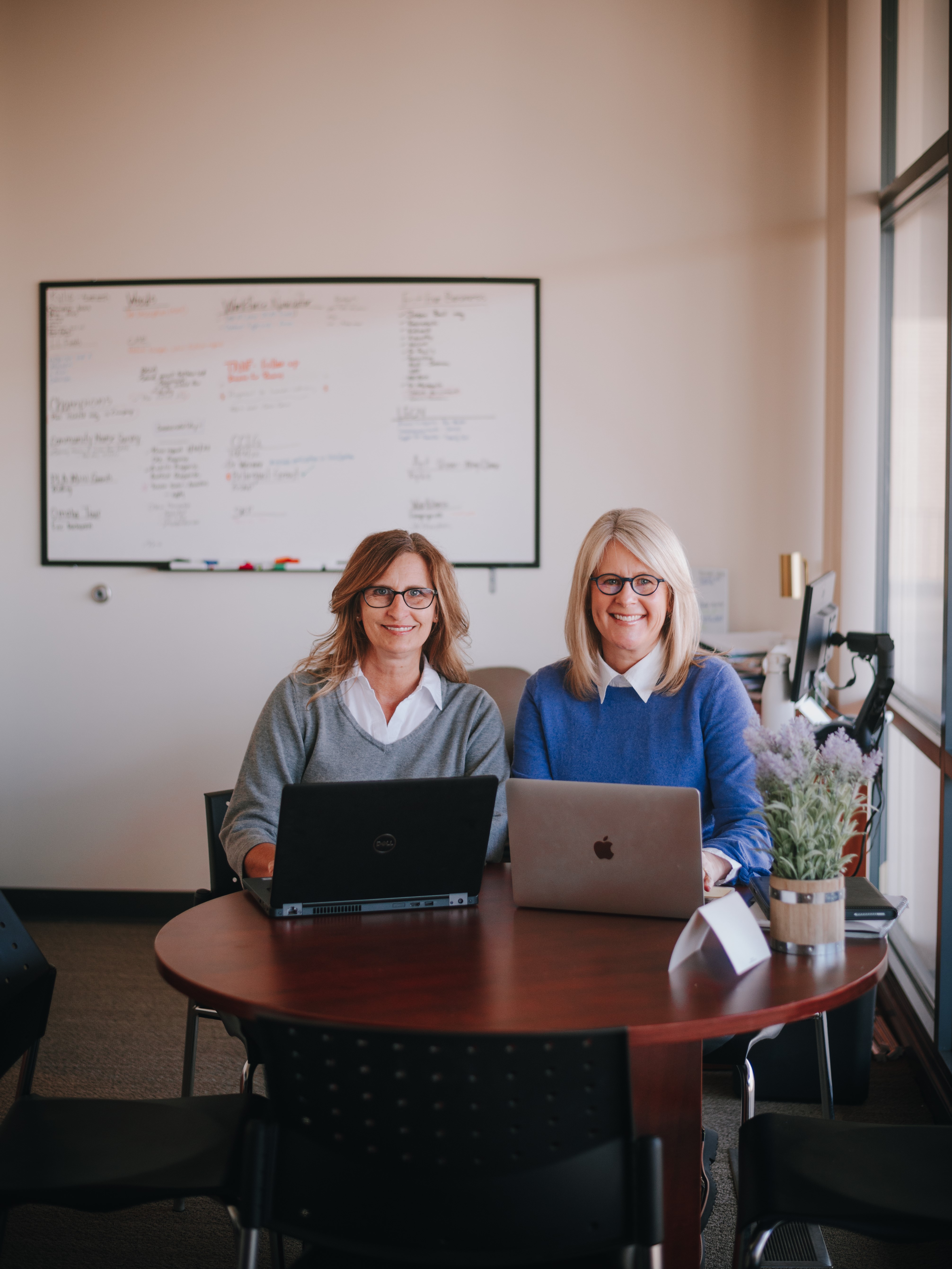 The office of Lincoln Littles is bright and bustling, overlooking the skyline of downtown Lincoln. On the wall, a whiteboard notes the magnitude of work and collaboration being done to enhance Early Childhood Education in our community via meetings, projects, and to-do lists.  
 
What might feel inundating to some – especially as an office of two – energizes Anne Brandt and Suzanne Schneider. As they speak about their work, their passion is palpable. After two years of helping Lincoln childcare providers navigate the pandemic, Anne and Suzanne are back together and working full steam ahead on complex issues surrounding early childhood.  
 
"In many ways it feels like we are starting over," said Lincoln Littles Executive Director Anne Brandt. "We're getting back to the broader work of affordability and quality. It's great because we know so much more now than we did before." 
 
Associate Executive Director Suzanne Schneider agreed. 
 
"So much of our work has been supporting childcare providers through the challenges of the pandemic," said Suzanne. "How could we build quality when folks were struggling to keep their doors open? Now we feel that we can dig in and strengthen that focus." 
 
The mission of Lincoln Littles is to provide opportunities for all children to have access to high quality early care and education, ensuring they are ready for school and a life of learning. Lincoln Littles is transforming the landscape of early childhood by expanding high-quality choices and supporting families, early childhood providers, teachers, businesses, and our community. 
 
One way Lincoln Littles plans to deepen their focus on quality early childcare is by adding a new position to the office. Thanks to funding from the Buffett Early Childhood Fund, Community Health Endowment and Woods Charitable Fund, a full-time Wellness and Workforce Navigator position will focus on assisting childcare providers with staff retention and recruitment. 
 
"Childcare providers are the workforce behind our community's workforce," said Anne. "If we don't have places for children to go, we can't work, and ultimately our community isn't as vital. This position will wake up every single day and think about how they can help the childcare workforce." 
 
For Anne and Suzanne, addressing the issues of quality and affordability doesn't stop with providers. They also consult with local businesses on how they can include childcare as an employee benefit through their Employee Engagement program, a partnership with First Five Nebraska. They work with employers to survey their employees and determine their needs.  
 
"Businesses might not be aware their employees are struggling with childcare," said Suzanne. "There are many options available for employers to help, including subsidizing the cost of childcare, starting a new on-site program or connecting employees with a current local provider." 
 
Anne and Suzanne's efforts throughout the past two years have embedded their role as a key collaborator. 
 
"We connect folks to resources, much like a district office or a chamber of commerce for early childcare," said Anne.  
 
The outcomes of their relationships have been life changing for the people Lincoln Littles has helped.  
 
"Recently we had a father call who suddenly found himself in a situation where he was a single parent.  This left him in need of childcare so that he could continue working," said Suzanne.  
 
"We were able to contact a provider, who made an adjustment to get the family in. And with the help of our tuition assistance program, the provider could cover their tuition while the family waited to receive state subsidy. We also worked with his employer to let them know this family had support during such a difficult transition." 
 
As reflected on the office whiteboard, the vision for Lincoln Littles is to continue supporting our community's early childcare landscape while ultimately building capacity for a more robust organization. 
 
"When it comes to ages zero to five, we want to be the focal point," said Anne. "With community investment, we can certainly grow this work." 
To learn more and donate, visit www.LincolnLittles.org.