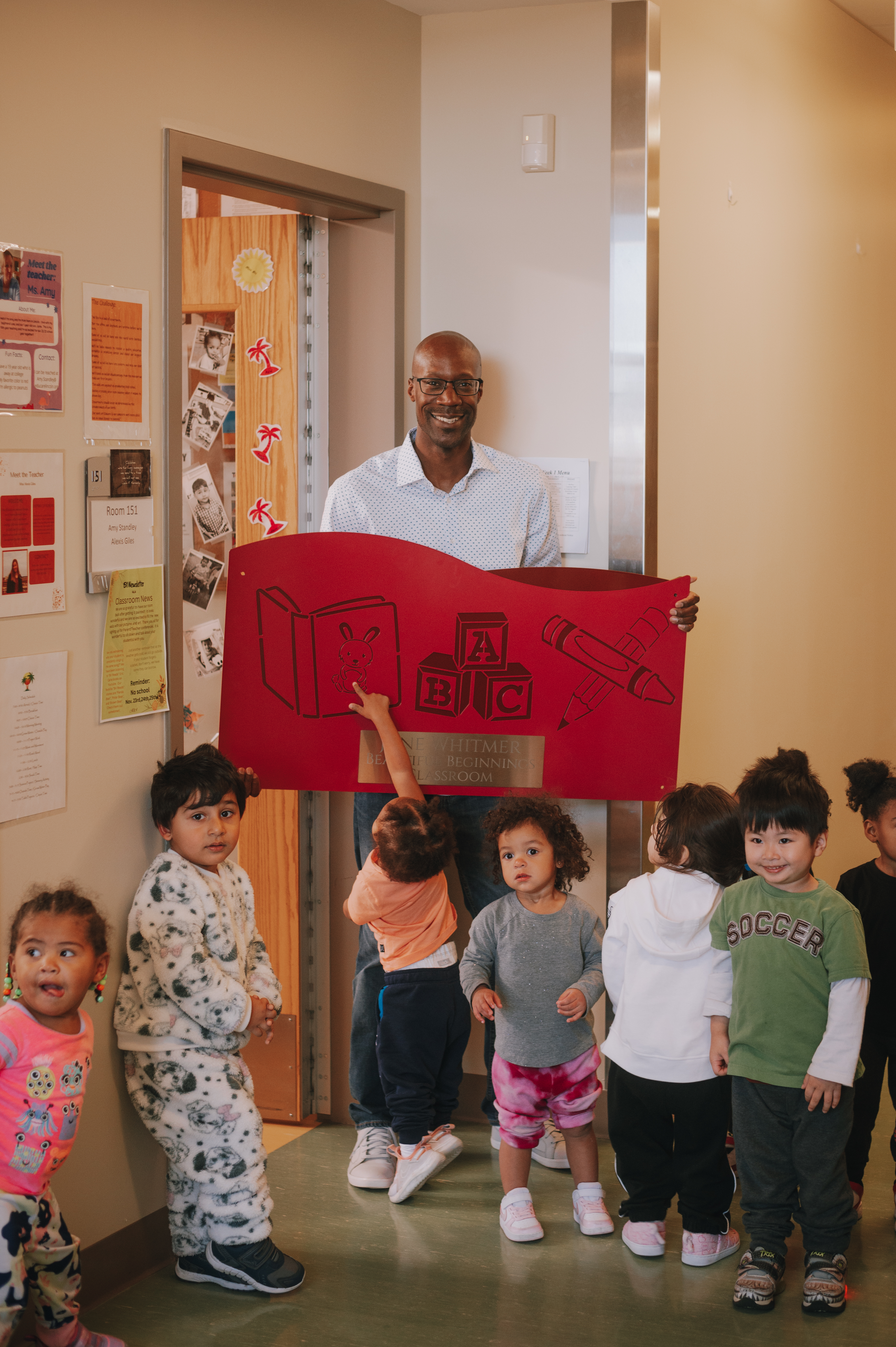 There were happy dances and happy tears at Educare Lincoln on September 14 as Mae Whitmer toured the new early childhood classroom opened in memory of her sister-in-law, Jane (Erickson) Whitmer, who passed away in 2019 after a courageous battle against cancer.
"Every child deserves a beautiful beginning," said Mae. "I'm just so happy it's finally happening. Jane's doing her happy dance."
Mae credits Jane with igniting her passion for early childhood. Jane dedicated her life to working with young children, particularly those facing the greatest odds. During her career she taught Head Start, kindergarten and first grade.
In the 1980's, Jane co-created the SRI/St. Elizabeth Child Development Center, which became the Gallup Child Development Center. With Helen Raikes, Jane co-authored Beautiful Beginnings, a comprehensive curriculum for infants and toddlers.
What could be more fitting to honor her memory than making sure that more children in Lincoln have the opportunity for a beautiful beginning? And even more fitting, Jane's dear friend Helen Raikes made the key introduction that started Mae on her philanthropic path with Educare Lincoln.
Mae reflected on her first meeting with Executive Director, Quentin Brown, where everything clicked into place.
"Quentin told me about a conversation he had with his wife when he was about to take this job that would relocate them to Lincoln," said Mae. "He told her they were 'going to Nebraska to change lives' – that's how I knew this was the right fit."
Read more.
Educare Lincoln is a research-based early childhood education program that serves children with the highest need in our community. As a no-cost provider, Educare is both a cutting-edge learning facility and community center that instills the importance of the first five years of every child's life. Educare Lincoln is the third Educare school built in Nebraska and is connected to Belmont Elementary School.
"Thanks to Mae, we were able to reach full capacity this August," Quentin shared. "This gift literally opens doors to children who otherwise would not have been served." 
To make Mae's philanthropic dream a reality, she worked with LCF Vice President and General Counsel, Tracy Edgerton. Mae will utilize qualified charitable distributions (QCD's) from her IRA in support of this new classroom at Educare Lincoln. With her initial distribution supporting classroom resources, renovations, and staff, her generosity will create an endowment that will support the classroom forever. 
"I'm struck by Mae's humility and her passion," said Tracy. "Her desire to ensure that every child in Lincoln has what they need to really thrive in our community is truly inspiring. Mae has created an extraordinary opportunity for a whole new group of children that will pay dividends into the future."
Mae was joined by her family and friend Helen Raikes as she toured the "Beautiful Beginnings" classroom. 
"There is something very special when a donor makes a transformational gift during their lifetime," reflected Tracy. "Getting to see Mae's gift in action with the smiling faces of the children looking up at us in their new environment was extremely moving."
"Generosity is what got us here today," said Alec Gorynski. "Year after year, the lives of 12 families will be enriched with the education and care they'll receive in this classroom. I can't think of a better way to honor Jane's beautiful spirit than this awesome expression of philanthropy."

Turn your passion into action with a transformational gift for our community. Contact Tracy Edgerton at 402-474-2345 or tracye@lcf.org.