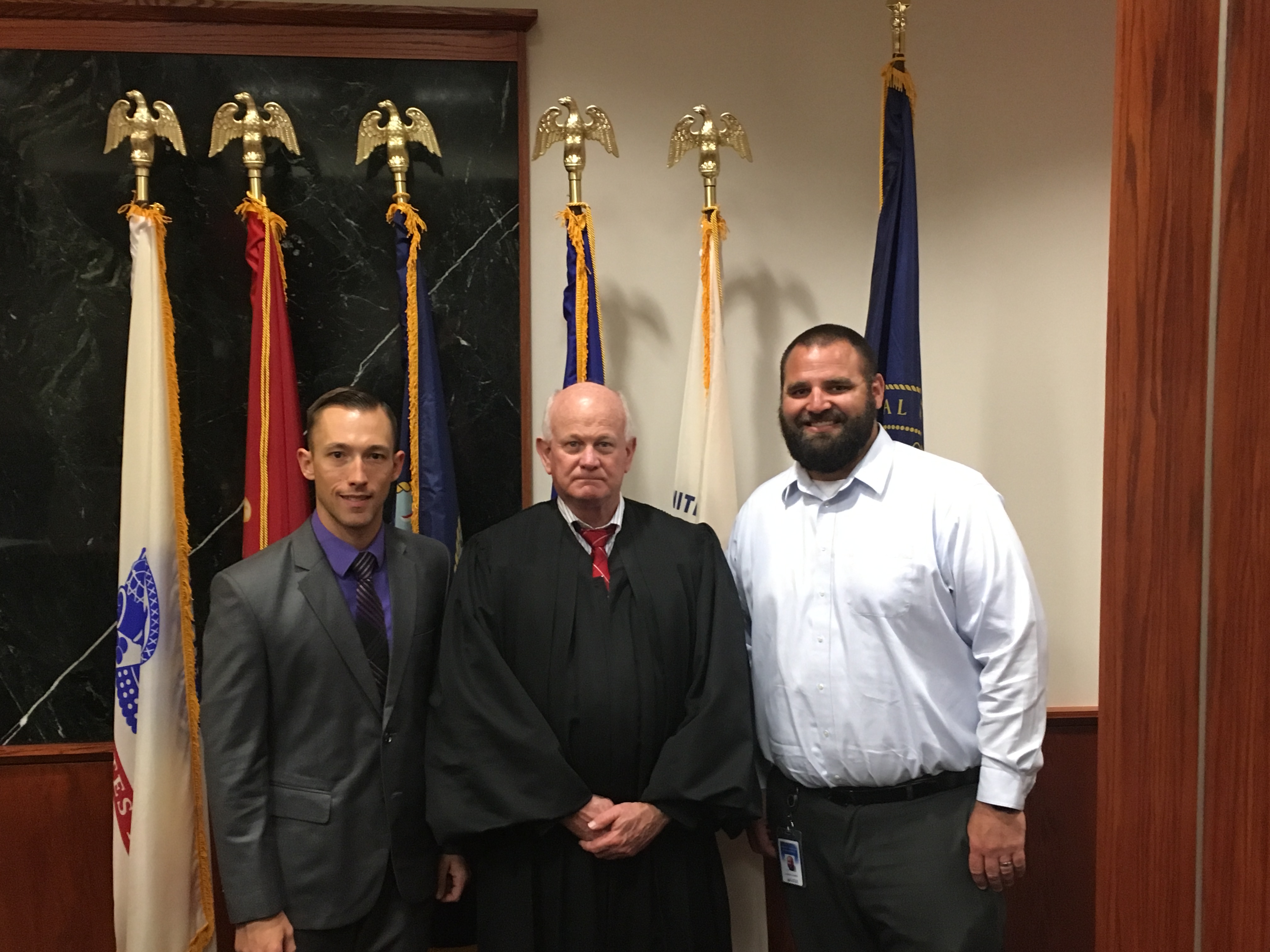 From left to right: Jared Baker - Veterans Court Officer, Honorable Judge John A. Colborn - Veterans Court Judge, Landon Parks - Acting Veterans Court Coordinator
When returning from a combat zone, veterans are increasingly diagnosed with mental health disorders such as post-traumatic stress disorder or traumatic brain injury. The Lancaster County District Court began seeing more of these individuals on their court docket. Lancaster County Community Corrections and the Lancaster County Attorney, along with the Lancaster County District Court, decided that rather than jail, perhaps a problem-solving court would be a better alternative.
Modeled after the highly successful problem-solving court for individuals with substance use disorders, the Lancaster County Veterans Treatment Court is meant to provide veterans and active duty military members facing felony charges with resources rather than prison.
Using funds from Lincoln Community Foundation's Veteran Support Fund, gift cards to The Mill and Walmart are purchased and used as incentives for participants to continue making progress in the program, which includes drug testing, treatment, and individual and group therapy.
"Each week, when a veteran follows all of the conditions of Veterans Court, their name gets put in a hat and one person is drawn to receive a gift card," said Jeff Curry, Chief Probation Officer in the Lancaster County District Court. "On weeks when all participants do well, we draw for two gift cards."
Participants meet weekly and form bonds as a group, Curry says. With a little positive peer pressure, they encourage each other. "They really look forward to the gift cards," he said.
Since kicking off the treatment court in April 2017, six individuals have started the program and are in varying phases of the process. Because the program takes a lot of resources, there is only room for 8-10 people at this time. The program takes one to two years to complete.
Participants must have served in a combat zone, have a mental health diagnosis or traumatic brain injury, be eligible for Veterans Administration benefits, and not have a long prior criminal history before their service. Veterans are recommended, but also volunteer to participate.
You can contribute to the Veterans Support Fund to ensure programs like these continue. Contact Sarah Peetz, VP for Community Outreach, at 402-474-2345 or sarahp@lcf.org.