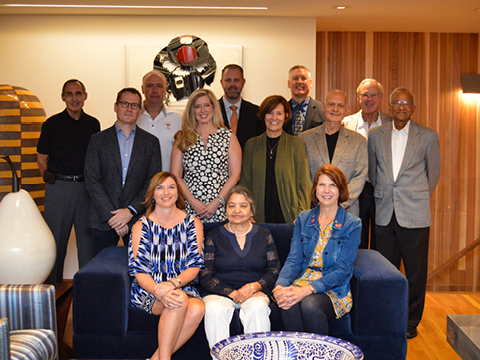 In September, LCF's Benefactors and Legacy Society gathered at the beautiful home of Tom and Lisa Smith to recognize and welcome new members. 
Members of our Legacy Society and Lincoln Benefactors are passionate leaders of the Lincoln community who inspire others through their investment in its future.
Lincoln Benefactors
Lincoln Benefactors are the backbone of LCF, providing long-term stability and significant benefits to our community nonprofit organizations. Lincoln Benefactors are donors who have made a current gift or a commitment for a future gift in one of the following categories:
• Individual gifts of $50,000 or more to the Lincoln Community Foundation Fund
• Endowed gifts of at least $500,000 to any fund. Learn more about an available 10% match
• Gifts of $1,000,000 or more to any fund
New Benefactors
John H. Casey
Willa Foster Jones & Richard K. Jones
Helen L. (Penny) Greer
Earl Visser
Philip A. & Carlene K. Waldron
Marica Kominsky Wallen
Legacy Society
Many donors make charitable plans through a will or trust, establishing a gift now and funding it at end of life. These legacy gifts are the ultimate gift received from a donor.
New Legacy Society Members
Mahendra & Prem Bansal
Ted & Karen Boyer
James D. & Rosalind K. Carr
Kyle & Koren Cartwright
Kristen & Geoff Cline
Heather Douglas
Clover & Matthew Frederick
Thad & Megan Huenemann
Al Imig & Beth (Dering) Imig
Alvin A. Lind
Tyler W. & Denise E. Mainquist
Linda & Gary Major
Robert McMaster & Maureen Ose
Richard J. Patronsky*
Ginny Phillips & Bill Weesner
James E. Potter* & Gail DeBuse Potter
Betty Sage
Thomas C. & Lisa M. Smith
Diane Snapp
David & Linda Sundberg
Jim & Nancy VanKirk
Philip & Carlene Waldron
*deceased
To learn more about planning a gift that leaves a lasting mark on Lincoln, contact Paula Metcalf, VP for Gift Planning, at 402-474-2345 or paulam@lcf.org​​​​​​​